Information Equity Database (2021)
Graphic Credit: Brian Mains, WCPO Channel 9
The #ONAinfoequity database provides resources for journalists to engage communities that are typically under- or misrepresented in their reporting, and to ensure equitable access to information. It's a one-stop shop with guidance for identifying gaps in information access, making the case for community engagement to newsroom leadership and discovering ways to improve existing efforts.
The resources have been thoughtfully vetted and curated. They are tagged by the community served—for example, demographic context such as young people, disability community and LGBTQ—and each one notes the rationale or purpose for using it.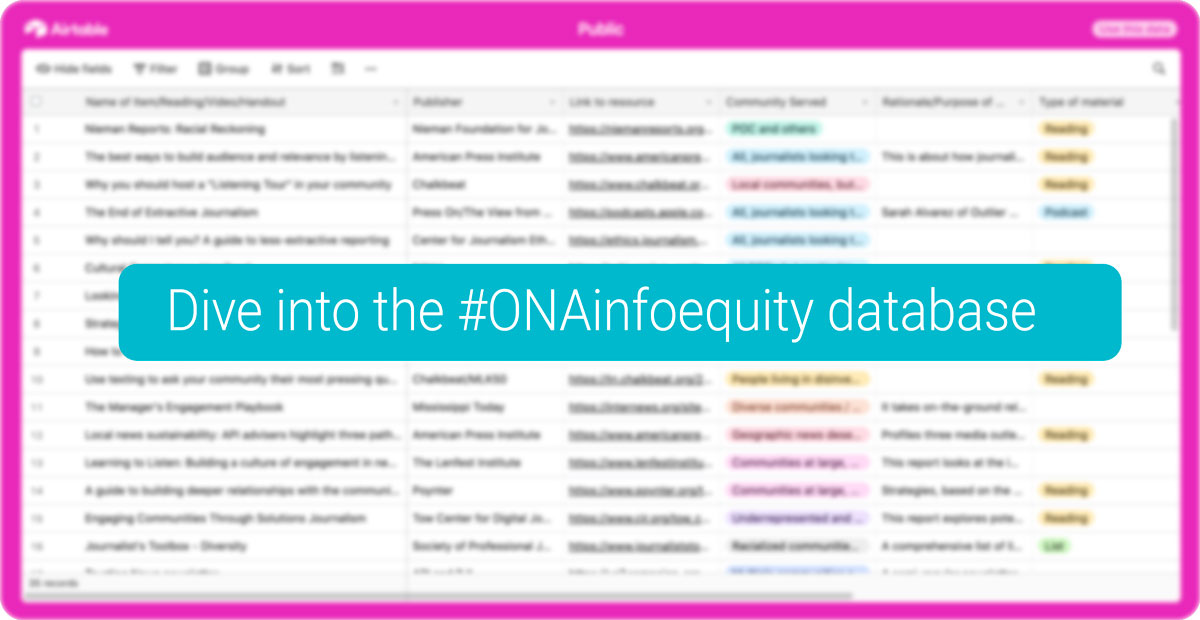 The database was developed through ONA Community Circles. Free Press' Vanessa Maria Graber and ONA Board member Anita Li led over a dozen journalists to collaborate on the project.
Credits
Project Leads
Project Team Members
Ismail Akwei, GhanaWeb
Gina Baleria, Sonoma State University
Caroline Bauman, Chalkbeat
Gabriela Brenes, La Voz de Guanacaste
Sara Catania, Solutions Journalism Network
Peyton Chance, Viget
Jessica Chapel, Harvard Law School Library
simon frantz, BBC Global News
Jordan Gass-Poore', Independent
Christopher Gentilviso, Richmond Times-Dispatch
Judy-Anne Goldman, HPE's Enterprise.nxt
Liza Gross, Solutions Journalism Network
John Hernandez, American Press Institute
Maudi Maadil, University of the Philippines Diliman / The Free Minds
Brian Mains, WCPO Channel 9
Kate Maxwell, The Mendocino Voice
Patricia A. Murray, Durham Skywriter / TV Skywriter
Erica Smith, Times Union
Stephanie Snyder, Hearken
Lucy Sun, Google
Nick Swyter, The New York Times
Shay Totten, Compass Experiment
Yihui Xie, Yale-NUS College
Related Topics