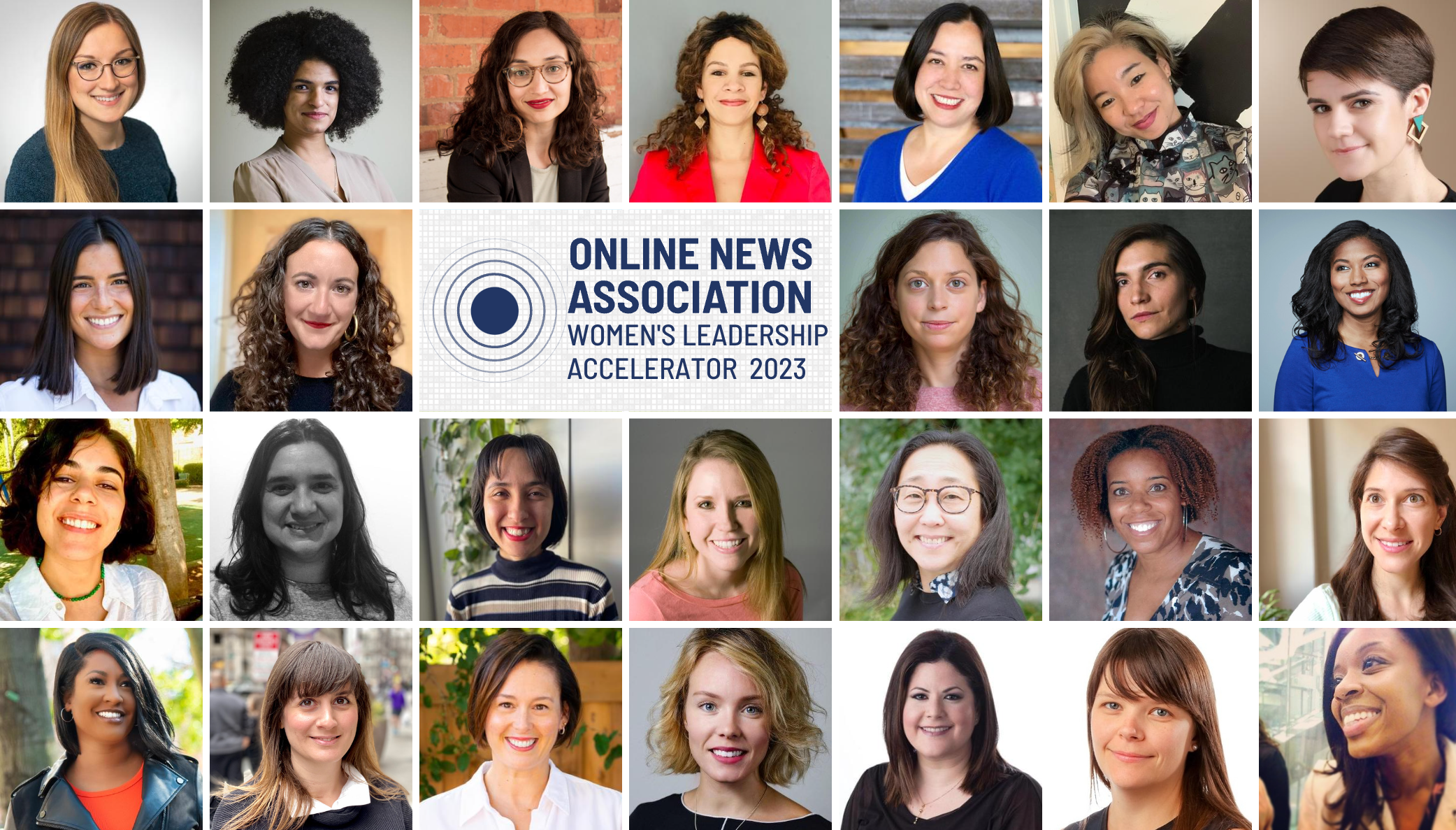 Meet the 2023 Cohort
26 leaders in digital journalism selected by the Women's Leadership Accelerator review committee for a transformative, yearlong program of leadership training, coaching and support.
The Women's Leadership Accelerator is a yearlong intensive program that supercharges the leadership and management skills of women who are pushing digital innovation. Each year we welcome a cohort of women representing a range of backgrounds, expertise and newsrooms around the globe.
---
About the Program
The Women's Leadership Accelerator offers an intensive program of mentoring, discussion and learning from some of the top minds in digital media. Participants work closely with mentors on challenges unique to their careers and also receive support and coaching from ONA throughout the year.
The 2023 accelerator provides:
Virtual hello meeting in March, individual virtual welcome coaching between March and April, and an in-person cohort workshop in April/May; focused on hands-on personal and professional work; candid discussions about leadership, work-life balance and problem-solving in the newsroom; deep dives on developing leadership and management skills; and one-on-one coaching from industry leaders
A year of check-ins and practical, targeted guidance and personal coaching on individual challenges
Registration to the 2023 Online News Association Conference (#ONA23)
Closing workshop for the cohort in August, coinciding with ONA23
The opportunity to be a part of a cohort of peers to serve as a strong career-long support system
Timeline:
Oct. 21, 2022: Applications open
Nov. 10, 2022: Applications close at 11:59 p.m. EST (4:59 UTC)
February/March 2023: Cohort announced
Week of March 9: Hello Meeting for 2023 cohort (virtual)
March/April 2023: Individual welcome coaching (virtual)
May 2023: In-person workshop in Chicago
Aug. 23, 2023: Closing workshop during ONA23 in Philadelphia
Supporters
We seek funders for each new program and have several opportunities to support this program as well as our other year-round programs for women in digital news leadership. To learn more about
supporting the programs
, contact
Jessica Strelitz
, Chief Strategic Partnerships Officer, at
jessica@journalists.org
.
Past Programs
The Women's Leadership program began in 2015 and has evolved to be a year-long cohort experience. Learn about the past programs, including previous cohorts, speakers, sponsors and programming.
Past Speakers
The accelerator has featured an array of industry leaders and inspirational voices to shepherd our cohorts through their time in the program.