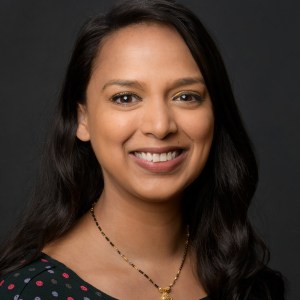 Versha Sharma became Editor-in-Chief of Teen Vogue in May 2021. Previously, she was Managing Editor and Senior Correspondent at NowThis, where she led audience growth on new platforms from Instagram to Facebook to YouTube, working at the social video-first company since 2014. She's produced several short documentaries and filed dispatches on immigration from the U.S.-Mexico border, reported from mass protests in St. Louis, and traveled to Moscow, Russia for the show she hosts and produces, The Russia Desk. Versha won an Edward R. Murrow award with the NowThis Reports team for a short doc about the aftermath of Hurricane Maria in Puerto Rico. Versha has long been an enthusiastic voice for the most innovative models in digital journalism. Prior to NowThis, she worked as a reporter and editor for Vocativ, where she managed a team of international reporters. She covered the 2012 presidential election for MSNBC and got her start in journalism with an internship at Talking Points Memo in 2009.
Versha's vision for the future of digital journalism
The future of digital journalism is collaborative and innovative, with a key focus on audience engagement and really serving our audiences. In 2020-2021, we've gone through an incredible reckoning where all the shortcomings and flaws of our industry (and society) have been exposed: because of the ongoing pandemic, because of the incredible racial and social justice movement that ignited further in the wake of George Floyd's death. When we look at these life-changing, world-changing stories, I am reminded of the importance of journalism, the importance of truth-telling, the importance of remembering who we're here to inform, educate, and elevate. My hope is that in the future, newsroom leaders are much more cognizant of that responsibility and empathetic when making decisions. My hope is also that we continue to diversify leadership across the board – industry leadership has never been as diverse as it is now, which is an amazing thing to see, but we still have so much work to do. Now that promises have been made by several companies and publications to do better when it comes to diversity and inclusivity, I'm ready to help hold those same companies accountable and make sure we're actually making room to develop new leaders and allow them to rise.
I have serious concerns about the battle against disinformation and misinformation and feel strongly about continuing to learn best practices to combat it. Also part of my vision of the future of the industry: real collaboration between publications as well as platforms to uphold and elevate the truth, rather than allow inaccurate clickbait to grow/fester/be rewarded by algorithms. I think holding platforms accountable is only going to be possible by the industry banding together in solidarity and collaboration and look forward to the day when we can have a real impact in that regard.