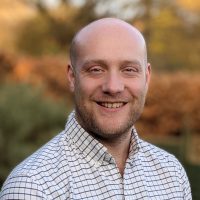 Fergus is an incumbent candidate for the 2022-23 ONA Board of Directors election
Fergus Bell is the founder & CEO at Fathm, an independent news lab, agency and consultancy supporting clients from across the globe. His work focuses on improving newsroom processes and efficiency, making use of emerging technologies, generating new revenue, tackling mis and disinformation and creating impactful and increasingly essential reporting initiatives around the climate crisis. He is an experienced journalist, editor, manager and leading expert in verification, fact-checking, newsroom innovation and
collaborative journalism projects. He spent eight years as a journalist and producer at the Associated Press, where he became their first International Social Media and UGC Editor. Since 2015 Fergus has been advising broadcasters, publishers and start-ups around the world on editorial challenges, misinformation, newsroom transformation and innovation. He is the co-founder of the Online Journalism Award-winning "Pop-Up Newsroom", a framework for collaborative journalism projects that has run initiatives in the US, UK, India, Sweden, Indonesia and Mexico. Fergus is a mentor for the UK's John Schofield Trust and he joined the Online News Association's Board of Directors in 2020.
Describe your vision for the future of digital journalism. How would you reimagine the journalism industry?
The future of digital journalism is outward-looking, bold, innovative, collaborative and inclusive.
As the only ONA board member based outside North America I make it my duty to highlight the amazing work that digital journalists are doing every day as well as the incredible challenges they face in carrying out their work; from operating in devastating media ecosystems to intimidation and horrific abuse. If ONA and digital journalism double down on efforts to look outwards to colleagues around the world we have a clear and exciting opportunity to learn from each other; we don't need to repeat the same mistakes in our respective markets and newsrooms when others have found a way forward. The amazing innovations that are being made by colleagues in different corners of our planet are an opportunity to inform our own work so that we can grow and do better.
Digital journalism has always been bold but now it has to be bolder. Countering the threat of misinformation and the impact that it has on our work and organizations in terms of trust must be baked into every aspect of digital journalism. A lot of progress has been made but we need to go further.
Digital journalism also has to be bold in the face of the biggest threat of our time. We have to put the reporting of the climate crisis front and center of our priorities because the impact on young people, women, underserved communities, businesses, health and the environment continues to be underestimated and under-reported.
Digital journalism in the future must go further in embracing innovation. I am proud to be involved with an organization like ONA that has a clear vision for how to support newsrooms with sustainable innovation. This is why it is so essential that ONA secures support to work with digital journalists in developing nations as well as those with established media ecosystems.
The future of digital journalism is collaborative. We have seen the indisputable power that collaboration has when it comes to investigative reporting. This is also one of the reasons I created Pop-Up Newsroom – to foster innovation through collaboration. It has worked to fight misinformation in new and measurable ways and programs like this can be adapted to meet local, regional or global needs. Collaboration isn't just a nice thing to have; there are sound business and revenue opportunities as well.
The future of digital journalism is inclusive. Who doesn't wish they could be part of the incredible ONA Women's Leadership Accelerator? That cohort of amazing journalists and digital leaders continues to both inspire and change our industry for the better. By building new strong cohorts of digital journalists we can try to replicate the success of the ONA's WLA across the other communities ONA serves. We are all excited to see what Vision25 can do to advance racial equity in journalism and newsrooms and I hope that we'll also soon see initiatives to support digital journalists who identify as LGBTQ+ or who have disabilities.
Digital Journalism Insights Forum