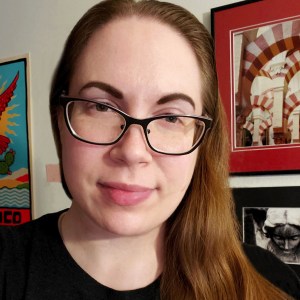 Margaret is a candidate for the 2023-24 ONA Board of Directors election
Margaret Schneider (she/they) has worked in or adjacent to newsrooms her entire career, serving as a managing editor in city and regional publications, editing books and alt-weeklies, and launching several startup publications. In July, she joined Automattic's Newspack platform as head of training and documentation, where her work supports a community of 180-plus small- and medium-size newsrooms. Previously, as director of editorial projects at Alley, she created and managed the agency's WordPress CMS training program and personally trained hundreds of folks on editorial teams. Margaret is experienced working with large, high-volume publishers such as New York Post and NBCUniversal/Telemundo stations, as well as many smaller publishers (including several newsrooms she continues to support on the Newspack platform). She is passionate about making the lives of writers and editors better, and as part of that mission, she has shared knowledge in sessions at events including the Online News Association conference, ONA Local Meetups, ONA Insights, ONA's Women's Leadership Accelerator, News Product Alliance (NPA) Summit, SRCCON, the Investigative Reporters & Editors (IRE) conference, and WordCamp for Publishers meetups.
Margaret's vision for the future of digital journalism
In the past few years, I've grown in my commitment to a singular idea: Rather than simply reflecting existing organizational structures and newsroom culture, inequities and all, the digital tools and strategies we develop can change the face of newsrooms and the way we tell stories. Practices folks see as prosaic, such as training on a new system, can be sites of change. Tools folks see as mundane necessities, such as their content management systems, can be built in better ways. I know it's possible to democratize publishing, and I want to help the industry do so.
Iterative improvements to our tools, training, and best practices are too often overlooked but necessary preconditions for the more just, equitable world of journalism envisioned by Media 2070 and Vision25.
In newsrooms where opportunities for professional development too often don't exist, creating and training folks on digital tools can be an effective tactic to forward our diversity, equity, inclusion, and accessibility goals. An old idea in computer science, Conway's law, states, "Any organization that designs a system (defined more broadly here than just information systems) will inevitably produce a design whose structure is a copy of the organization's communication structure." You may have seen this happen without having a name for it, when organizational hierarchies and biases are built into each new system a newsroom creates. Tools that should support our work or connect us to audiences—and those who create those tools—don't always have the same goals in mind.
As journalists and technologists, we work at the intersection of two industries that have historically marginalized many. Those conditions persist, and newsrooms are only beginning to reckon with this history and ongoing reality. New barriers have arisen; the respite of pandemic remote work practices has sadly proven temporary for many. But it's not OK to settle for that status quo. We need all hands on deck, and journalists need to be able to work safely and collaboratively. Newsrooms need diverse staffs to tell the stories of diverse communities, and staffers need systems that support equitable, inclusive, accessible, and connected ways of working.
It's possible to reverse these old rules. As a trainer, I've seen firsthand how educating an entire staff on a new tool, making sure we're imparting best practices for accessibility and inclusivity, improves equity in a news organization. As a presenter and conference participant, I've seen firsthand how the envelope of discourse has shifted, even in just the past few years, to rethink our ethics and question the orthodoxy of objectivity. And as an ONA member, I've seen firsthand how ONA has been able to support and facilitate the conversations and training we all need at a critical juncture for our industry and the world.
It will take all of these tactics and more to create a better world for journalists and publishers. We must continue to push beyond our respective comfort zones to envision improved ways of working and telling stories that support everyone in our newsrooms and communities.