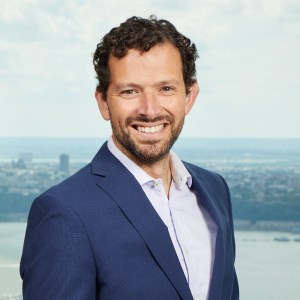 Andrew Fitzgerald is the SVP of Streaming Video Services at Hearst Television, working to bring local news and original, local programming to streaming audiences across the US via the "Very Local" streaming app. Fitzgerald joined Hearst Television in 2017 in the newly created position of chief digital content officer, based at Hearst Television's New York City headquarters.
Fitzgerald previously served for more than five years at Twitter, in a variety of roles including as the company's Director of Curation where he built and oversaw the global curation teams responsible for Moments, His other roles at Twitter included head of US news partnerships, where he oversaw Twitter's relationships with some 30 news organizations and book publishing companies.
Prior to Twitter, Fitzgerald helped to launch the social media show The Stream for Al Jazeera English and led the citizen journalism program "Collective Journalism" for short-form documentary network Current TV.
Fitzgerald is a cum laude graduate of the University of Southern California with degrees in Cinema-Television Production and Philosophy.
Andrew's vision for the future of digital journalism
Digital journalism and the news industry writ large is at a critical stage. News product has never seemed as important, and yet the business of news has spent the last two decades in increasingly challenged positions. The environment, technology, and operations of news has radically changed in cycles of increasing frequency. Digital journalists, as the transformation specialists in their organizations, have sat at the fulcrum of that change. We're now in a period where early digital journalists, the cohort of folks who attended the Online News Association conferences in the mid- and late-2000's, are beginning to take leadership roles in the industry. Newsroom misfits no longer, the ONA membership represents the industry's new leaders.
This is a valuable opportunity for the Online News Association, but also a great responsibility. As the industry continues to evolve, ONA is in a position to be an effective advocate for guiding change in the right direction. A commitment to a DEI focus in employment and in news storytelling; the training of a rising cohort of leaders with programs like the Women's Leadership Accelerator; providing opportunities for early career journalists through fellowships and training; and as ever, serving as a central hub for networking, recruiting, and skill-sharing among digital journalists.
I don't think the next five years in digital journalism will be any less tumultuous than the last five years. But within tumult: opportunity! I think ONA remains well-positioned to not only serve its existing constituency but to grow its influence and positive impact as this generation of digital journalists go from being the 'digital leaders' in the newsroom to just the 'leaders' and as 'online news' becomes just 'news'.
My career represents this arc with much owed to ONA. I've been a digital journalist for the last 15 years, working in newsrooms, board rooms, and platforms. In my current role I'm serving in an executive role helping to build new digital business models for a legacy local television provider. In my previous role at Twitter, I helped a platform better understand both news judgment and the news industry. Even before Twitter, I worked at the intersection of emerging technologies and digital journalism, focused on citizen journalism. There is little in digital journalism I've not tackled at some point in my career and I've always turned to ONA for insights into where I might be focused next.
In the last two years I've had the honor of serving as a member of the ONA Board and I hope to continue to serve in the term to come. This next few years will prove a defining time for ONA's path forward. I hope to lend my experience as a journalist, as an executive, and as a digital misfit to help strengthen ONA's ability to produce change-making programs, set industry standards, and support journalists at all career levels build their skillsets and networks.
ONA has given me so much over the last fifteen years. It's my honor to be able to give back in some small way.