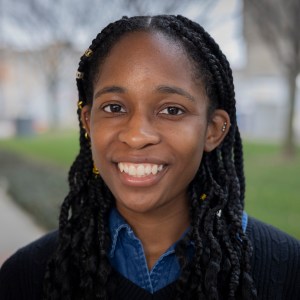 Elizabeth Gabriel (she/her) is an education reporter at WFYI in Indianapolis, IN who is passionate about centering youth voices in journalism.
Previously, she was a Journalism Fellow at KLCC in Eugene, OR, where she covered stories related to diversity, equity and inclusion. In 2021, she won a Regional Edward R. Murrow Award for excellence in sound, after shadowing volunteers in Eugene's annual point-in-time count of people experiencing homelessness.
Elizabeth is also a winter 2021 recipient of a national fellowship from the Education Writers Association and a former New Voices fellow with the Association of Independents in Radio. Elizabeth's stories have aired on NPR and the Northwest News Network — a regional collaboration between public radio stations in the Pacific Northwest.
Elizabeth is a 2019 graduate of The University of Texas at Austin, where she earned degrees in Rhetoric and Writing, as well as Radio, Television, and Film. She participated in NPR's Next Generation Radio program in 2018 before she interned with the news department at KUT in Austin, TX and completed a summer internship with KRBD in Ketchikan, AK.
When she is not reporting, the native Texan can be found rock climbing or spending time with her dachshund, Henry.