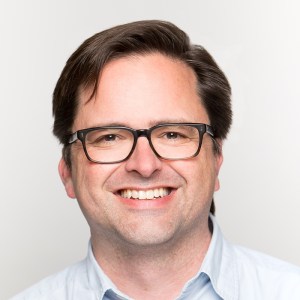 Rodney Gibbs is chief product officer of The Texas Tribune, where he is responsible for the Tribune's big-picture digital vision and tactical implementation. Leading collaborations between editorial, engineering and design, he oversees a portfolio of products supporting the Tribune's journalism, user engagement and sustainability.
Prior to joining the Tribune, Rodney founded and sold two mobile app and game companies. (One of his game products, Qrank, was a cult hit among news junkies, thanks to its innovative use of current events, location-based awards and social gameplay.) Active in Austin's media community, Rodney has served on a number of boards, including his city's NPR and PBS affiliates; the Austin Film Society; and the Austin chapter of Hacks and Hackers. Rodney mentored a young man for eight years with Big Brothers Big Sisters and served on that organization's board for two terms. He mentors college fellows with in the Tribune's newsroom and volunteers as an admissions interviewer for his alma mater, Rice University.
Outside of work, Rodney is passionate about travel, film, record collecting and swimming holes. Given his druthers, he'd be coaching his son's baseball team, watching old musicals with his daughter or cooking with his wife.
---
As a candidate for the 2019-20 Board of Directors election, Rodney delivered a lightning talk at the ONA18 conference and submitted the following information. Learn more about the election process.
ONA Involvement
I have attended the last six ONA conferences and spoken on panels at three of them. On the local level, I have attended ONA Austin events, and I am chair of Austin Hacks and Hackers. I served for six years on the boards of KLRU and KUT, our PBS and NPR affiliates, respectively. Among my duties on those boards, I helped author strategic plans; helped with a station's rebranding process; solicited donors for a major capital campaign, as well as regular membership campaigns; served as board treasurer; and chaired a group to devise the station's FCC spectrum re-allocation strategy
Vision for ONA
I'm a zig-zagger. My path to The Texas Tribune started in producing nightly news for public television, and I've snaked my way through commercial TV, web, video games and mobile app development. My circuitous course led me back to news — online news, to be precise — where I've spent the last six years. I want to serve on the ONA board to represent and attract people like me who came to journalism from oblique angles.
After each ONA conference, I return home fired up and a little freaked out. I get fired up by the inspiring work I see, by the big ideas shared by my peers, by the clever new ways we've found to tell stories, engage users and share information. But I often am a bit freaked out, too, by the challenges we face in paying for the journalism, engaging users in an increasingly splintered and polarized media landscape and in speaking truth to power. This mix of excitement tempered by anxiety is motivating and sobering. It drives me to find ways to improve my own performance and my organization's. I hope to tap into that passion as board member and use it to encourage others to join ONA, become active participants and thereby improve their knowledge, foster better collaboration and fuel innovation.
Coming from a nonprofit newsroom in the middle of the country, I feel a bit unusual at ONA conferences. While I love reuniting with old friends and making new ones from New York and D.C., I relish meeting peers from places like Honolulu, San Diego, Portland and Birmingham. Our newsrooms are often smaller than east coast organizations, but there's a lot of us. If elected to the board, I aim to prioritize outreach to newsrooms like mine — the small, sometimes isolated ones outside the big media hubs — that are doing great work and are integral parts of our community.
Emily Ramshaw on Rodney Gibbs
I am honored to nominate Rodney Gibbs, The Texas Tribune's visionary chief product officer, to serve on the board of the Online News Association.
Rodney came to the Tribune with a unique background: He was a former public affairs producer and TV writer who had started and sold two digital media companies that worked with international brands, including the BBC, NASCAR, Marvel and Nickelodeon. We brought him in to serve at the nexus of our operation: the intersection of journalism and technology.
In his years with the Trib, Rodney has been our translator-in-chief, guiding our engineering and product teams and communicating their vision across the organization.
He introduced software development best practices to our newsroom, fostering a test-and-learn culture and enabling iterative design. He spearheaded Trib platform innovations that have expanded our reach, from livestreaming of events to quick-turn live video clips to daily news briefings on smart speakers. And he led the effort to completely overhaul our CRM and how we manage customer data.
He has also proved to be a deft at the financials, helping the Trib's development team solicit foundation support for our newsroom and innovation efforts.
And he co-chaired the Tribune's 2025 strategic planning process, leading the charge on charting a course for our digital technology and innovation objectives.
Rodney is also one of the key driver's of the Tribune's phenomenal culture, from developing a blind screening system for diverse applicants and unconscious bias training for staff to serving in our mentorship program.
Rodney's energy extends beyond the Tribune. He's the chair of Hacks and Hackers Austin, a group that connects journalists and technologists. He has served on the boards of Austin's leading media organizations, including KUT, KLRU and the Austin Film Society. And he's a guest lecturer in University of Texas at Austin journalism classes focused on entrepreneurship and product development.
Rodney is a joy and pleasure to work with and one of the most decent and capable human beings you will ever meet. You would be lucky to work with him on the ONA board!