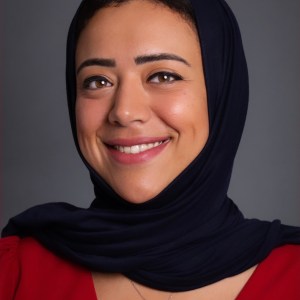 Ethar El-Katatney is a digital newsroom manager and strategist with over fifteen years of international journalism experience working on news, features and investigative stories in multiple mediums on multiple platforms. She is currently the News Product Strategy Lead for the Americas at Bloomberg. Previously, she was the former Young Audiences Editor at The Wall Street Journal and the executive producer overseeing the AJ+ newsroom, the digital video arm of Al-Jazeera she helped pilot, launch and lead. A published author and an award-winning journalist, she's been awarded a CNN African Journalist of the Year Award, a Samir Kassir Freedom of the Press Award, and an Anna Lindh Euro-Mediterranean Journalist Award. She covered the Arab spring as a reporter in the Middle East before moving to the US ten years ago. A newsroom consultant and trainer, she is also a board member at Documented, a non-profit news site covering New York City's immigrants. She has an MBA and an MA in Television and Digital Journalism from the American University in Cairo, and was part of the inaugural cohort of the Executive Program in News Innovation and Leadership at CUNY. Ethar is an Egyptian and lives in Harlem, New York.
Ethar's vision for the future of digital journalism
I began my career as a journalist with a literal pen and pad, and took a picture for the front page of my university paper using my Blackberry phone. In the 17 years since I picked up that pen, journalists continue to up their game, learning an ever-evolving set of skills, producing content in multiple mediums and platforms, all while learning how to connect with, engage and produce with and for their audiences. And they do so while navigating a battlefield of challenges: information overload, misinformation, fragmented audiences, eroding public trust, platform algorithms, failing business models, the looming fear of what AI means for their work – just to name a few.
I envision a future for digital journalism where reporters are equipped with the training and resources they need to serve their audiences, where newsrooms build relationships with and are reflective of the communities they serve, and where business models allow us to make the journalism that needs to be public knowledge accessible and free.
To do so, we need to be able to learn from and distill skill sets from each other to address our challenges, while collaborating and sharing our knowledge, successes and failures.
We need to develop and support a new generation of digital journalists, focusing on providing them with the tools and support they need to report on their communities.
Journalism needs leaders who come from multifaceted backgrounds in both their life experiences and their journalism. Leaders who are collaborative and forward thinking and balance serving their communities with running a business. Leaders who work at that intersection of product, editorial, business and technology that so many of us are trying to navigate. Leaders who advocate for learning about what their audiences value and need in order to provide them with the journalism that serves them.
My first ONA was incredibly inspiring and educational. The future ONA will only be as strong as the community that shares their experiences and knowledge to continue in the transformation of the industry, and in the quality of what ONA offers them to help them innovate in their work. I am committed to the ONA mission of inspiring and supporting innovation and excellence in digital journalism, and in working to build a community that ensures that quality journalism thrives in the years to come.