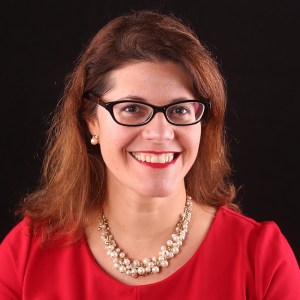 Teresa E. Frontado is the Digital Director of WLRN, South Florida's NPR member station. She is an award-winning journalist with more than 20 years of experience working for media organizations in the U.S. and Latin America, including CBS Miami, Univision Network, the Miami Herald Media Company, El Nacional (Venezuela) and El Universal (Venezuela).
Teresa specializes in helping newsrooms navigate the complexities of digital transitions while incorporating new platforms and technology for storytelling and engagement. Her favorite part of her current job is working with reporters to figure out the best way to tell their stories on digital platforms. Among other things, she has made water flow on the WLRN homepage for a project, produced a series of Facebook Live videos to raise awareness during the Zika crisis and put together an animated video to illustrate the effects youth gun violence.
Teresa has been a Knight-Wallace Fellow at the University of Michigan, a New York Times Fellow at the Maynard Institute for Leadership at Harvard University and attended the Poynter Leadership Academy. She obtained her Journalism degree from the Universidad Católica Andrés Bello in Caracas, Venezuela, and has two Master's degrees from Tufts University and the University of Miami.
---
As a candidate for the 2019-20 Board of Directors election, Teresa delivered a lightning talk at the ONA18 conference and submitted the following information. Learn more about the election process.
ONA Involvement
I am member of the ONA South Florida chapter and have participated in ONA Local News Summits in NOLA and Detroit. I have been to seven ONA conferences and have pre-judged for ONA Awards.
I am the Vice president of the NAHJ South Florida chapter. I am also on the Board of the Florida Society of News Editors and the Latino Public Media Consortium. I have been a member of the Selection Committee for the Knight-Wallace Fellowship at the University of Michigan for the last two years.
Vision for ONA
The reason why I want to serve on the ONA Board of Directors is very simple: we need more voices from local news organizations seated at the table. As talented as the current ONA Board of Directors is, all members belong to national media. In order to have diversity, we need to also hear from the ONA members that work day-to-day serving local communities.
ONA is a source of inspiration and a champion for best digital practices. It's my goal that it continues to be so. Particularly, I would like to see ONA helping local journalists understand how to better reach and engage with their particular communities. Technology can open doors for new conversations with audiences in unexpected places. In order to restore trust in our work as journalists, it's imperative that those conversations happen at the local level, amongst neighbors.
I have been a local journalist for most of my career. I understand what it's to have big dreams, a tiny staff and a very limited budget. I have learned to code and hack a CMS out of necessity. I have taken phone calls from neighbors complaining because "the Facebook" isn't showing certain stories they want to see. If you have worked for a newspaper, TV or public media station in a medium-to-small city in America, we'll probably have similar stories (so let's go grab a drink in Austin!)
This wouldn't be the first professional board that I join. I currently serve on the Board of the Florida Society of News Editors and the Latino Public Radio Consortium. I am the VP of the NAHJ South Florida chapter. I have also served on the boards of two other non-profits.
Parte de mi carrera ha sido en medios latinoamericanos y mantengo estrechas relaciones con mis colegas en la región. Sé que hay muchos miembros de ONA en países como Argentina, España y México. Espero poder representarlos en el Board. Eu tamben falo portugues et et j'ai vécu en France.
Charo Henriquez on Teresa Frontado
I first met Teresa in 2014 during ONA's conference. Back then, she worked in Univision and we immediately connected over our love of news and our personal investment around emerging platforms, audiences and bringing this knowledge back into our respective newsrooms.
Over these four years, one of the things I most admire about Teresa is her constant desire and dedication to learn about how to navigate the changes in our industry as well as sharing this broadly to benefit others. This is evidenced by her work on her Knight-Wallace Fellowship at the University of Michigan in 2016, focused on social media, and her current work leading digital strategy and execution at WLRN. Her attention to detail and commitment to her work has resulted in awards and recognition for her newsroom many times over.
I believe Teresa would be a valuable addition to the ONA Board because of her unique perspective. She has a great understanding of local news, the challenges that public media organizations face and can be a champion for both of these segments of the ONA community. She also has strong ties with journalists in Latin America and has worked with a focus on the US Hispanic population. Teresa has been an active ONA member and has been a facilitator/speaker at last year's conference in D.C.
Professional accolades aside, Teresa is a warm and energetic friend who is incredibly supportive and champions those around her. I would be thrilled to serve next to her in our Board.