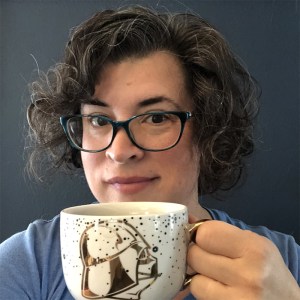 Before relocating from the Bay Area to Southern California for a full-time teaching position at the University of La Verne, Staci was Engagement Editor for Global Press Journal, an award-winning digital publication that produces high-impact news stories from some of the least covered regions of the world.
Staci was journalist-in-residence at Notre Dame de Namur University and previously taught digital media courses at San Francisco State University and the University of Tennessee. Staci earned her master's degree in journalism from Kent State University. Her research interests include social bots, social media metrics, digital and social media innovations in teaching.
She was associate director of digital and social media at the Stanford School of Engineering, senior internet marketing manager for Lucasfilm, innovations project manager for E.W. Scripps Newspaper Interactive, multimedia project manager for MSN Money and a community manager for CBS Interactive.
Staci is a long-time member of the Online News Association and a member of Journalism and Women's Symposium.
Staci was honored with the Distinguished Service to Journalism Education Award by the Journalism Association of Community Colleges in 2013. Her work in digital media has been recognized by the Society of Professional Journalists and the Kansas Professional Communicators.
---
As a candidate for the 2019-20 Board of Directors election, Staci delivered a lightning talk at the ONA18 conference and submitted the following information. Learn more about the election process.
ONA Involvement
I've been a member of ONA for more than seven years and have attended more than five ONA conferences. I've worked in the ONA student newsroom and helped setup for the ONA conferences. I've produced, managed and assessed digital and social content for MSN, E.W. Scripps Newspaper Interactive, CBS Interactive, LucasArts and Stanford School of Engineering. I am, and always will be, a journalist. I believe journalism is essential to our democracy, and the future of our country depends on a healthy news industry.
Vision for ONA
The ONA conference is a place where I feel excited and inspired about the future. I would like to work on ways to take those feelings from the annual conference and keep them going the entire year. I'd also like to see more students and educators join and participate in ONA. As an educator with industry experience, I bring a unique voice to the board. Now, more than ever, the news industry and educators must find ways to support each other and work together to ensure the future of journalism. As an educator at a small, private, nationally recognized Hispanic-serving institution, I'm passionate about supporting smaller universities and encouraging students from diverse backgrounds to pursue a career in journalism.
Jody Brannon on Staci Baird
Staci Baird is a force in digital education. She has ceaseless energy and the drive to make journalism education easier, more enriched and – especially – more relevant in this era of constant change.
I've known her to be an active participant and vocal leader in the ONA Educators' group, and this year she was one of six standout US educators to earn a Tow-Knight Disruptive Journalism Educators fellowship. Her project: Figure out a new ways to teach intro to journalism when there are so many competing topics and skills to shoehorn in.
More broadly, she's perceived as an approachable and ever-helpful catalyst in learning, constantly answering other professors' appeals for tips or ideas on how to refine a syllabus or course component.
Given the ONA's mission and projects, I'm confident Staci will be a fully committed and enthusiastic contributor to the board. While since 2016 she's worked in academe, her previous professional experiences will further enrich the board's chemistry and bring fresh ideas to various conversations. Plus her West Coast perspective will be valuable.
I hope you agree with me that she deserves the chance to run for a board seat, bringing to it the deep knowledge of an educator.