Immersive Case Study: Euronews 360 Video

This case study is part of the broader Guide to Immersive Ethics. Learn more in the overview, including what ethical criteria to consider when starting a new immersive project.
Euronews has produced dozens of 360 video projects in recent years, with Thomas Seymat heading their immersive workflow. For this project, Seymat served as executive producer to tell the story of a devastating year of wildfires in Portugal. The piece mixes 360 video, traditional video and a spatialized audio mix with natural sound, music and interviews translated from Portuguese to English.
In the field
Euronews' history of creating video journalism for TV long outdates their 360 projects, which allows Seymat to pull from existing standards for a lot of potential ethics questions. The team avoids staging actions with their subjects and tries to capture what would be going on if a camera weren't there as opposed to influencing what's happening, just like in their TV work. Similarly, the sound engineer mixed the spatial audio to accurately portray the sounds that were actually present. While the engineer wasn't in the field during production, the producer who was there understood how to best work with the ambisonic microphone they used for spatial audio capture, which meant that audio captured was directionally consistent and easier to maintain accuracy with.
The larger point of difference between Euronews's 360 production and traditional video is, obviously, the camera. Since a 360 camera films all around it, Seymat said those in the field explained — in Portuguese — to those around the camera that it could film them wherever they are. Knowing the technical limitations of the specific camera in-use made this an easier task: the video was shot with a Samsung Gear 360, so the team knew that people wouldn't be identifiable if they were farther than about 25 feet from the camera, Seymat said.
In post-production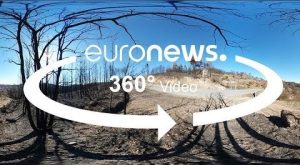 Euronews generally doesn't edit tripods out of their 360 video, Seymat said. This is done, in part, to save time, but it also avoids difficult technical and ethical complications. This project features various textured nadirs — like cobblestone and straw — that would have been challenging to replicate with visual editing tools. And the team in the field is small so as to not interfere with the subjects they're filming, so taking photos of every nadir would be challenging too.
Instead, Euronews chooses low footprint light stand-style tripods instead of bulkier ones used for traditional video cameras. These tripods are left in the shot rather than being removed or covered with a graphic, which gives the viewer full transparency that they're seeing the full picture. Since they're relatively small, the tripods don't interfere much with the overall visuals of the project.
Avoiding traumatizing experiences in VR
While Seymat said the main audience considered for Euronews' 360 projects is web viewers, the general policies they follow are appropriate for those who use VR headsets as well. Euronews' TV stories cannot contain violence and graphic imagery, and they follow the same guidelines for their 360 work.
Through experimentation, the team has found ways to do relatively steady moving shots with the 360 camera. In the case of this project, they use car mounts for movement, which keeps the footage smoother than if someone had been walking with the camera instead. While this makes for an overall better viewing experience in general, it's particularly vital for anyone watching in a headset to avoid feeling ill.
Related Topics
---
Authors