Newsletters are a popular way for newsrooms and individuals to grow their audience and bring in revenue. This style of direct-to-audience outreach is paying off in the wake of social media platform disruption, as journalists shared at our late 2022 event Beyond Twitter and Meta: What's Next for Social Media. Many news organizations told us they plan to continue building and innovating with their newsletters.
Thinking about starting a newsletter? New to email outreach? An experienced newsletter professional looking for fresh ideas? No matter your background, these sessions from ONA's annual conferences will help you expand and connect with your audience and boost your email strategy.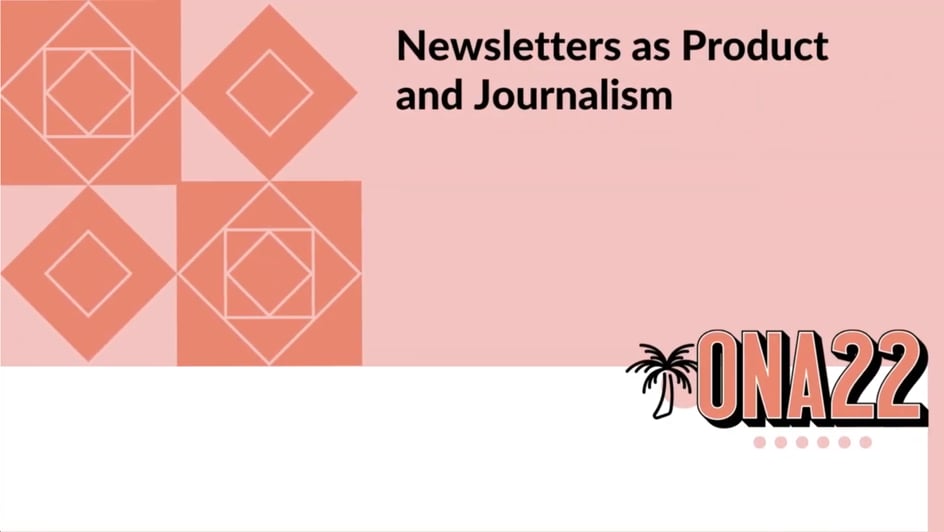 Speakers: Tess Jeffers (Director of Data Science, The Wall Street Journal), Robin Kwong (New Formats Editor, The Wall Street Journal) and Leigh Kamping-Carder (Head of Newsletters, The Wall Street Journal)
The newsletter team from the Wall Street Journal shares how newsletters fit into a membership business model, how to measure success, how to deal with the demise of open rates and experiment with new newsletter formats.
Takeaways:
Measuring email success for the Journal team includes portfolio-level metrics as well as content metrics. For example, growth rate (ideally going up) and churn rate (the ratio of new people subscribing compared with people unsubscribing; this rate would be ideally going down or staying low) are portfolio metrics. Content metrics would be click rates, topics that resonate and audiences that engage with the content.
Giving internal stakeholders access to this data is a little tricky when working with first- and third-party data, but it's important to have in order to make informed decisions.
Product managers or data analysts need to adjust their message when talking to different audiences within a newsroom. Journalists are likely to have different levels of background knowledge about tech, analytics and product than people who already work on those teams. They also have less time to do deep dives on this information, so it's worthwhile to give them the quickest takeaways and action items.
Newsletters let staff run experiments. A small experiment could be using data to adjust content to improve click-through rates. A bigger experiment could be launching a new newsletter based on data around audience preferences.
Email open rates have become a less reliable measure of success. Some alternative metrics the Journal team is relying on more include the size of the subscription list, churn rates, unsubscribe rates and click rates. Reader surveys can also give great qualitative and quantitative data.
Newsroom folks often pitch ideas for new products and it's helpful for newsletter teams to have a cost-benefit analysis framework available to evaluate their ideas. Know what the go/no-go point is and what metrics to use to determine that.
Speakers: Rebekah Monson (Co-founder and COO, Letterhead), Ryan Sager (Co-Founder, Who Sponsors Stuff) and Jesse Watkins (Co-Founder, Who Sponsors Stuff)
Learn how to land your first sponsorship or your four-hundredth, and everything it takes to cut through the noise of an overflowing inbox to deliver must-read news to your audience.
Takeaways:
Having a plan for how to build revenue via a newsletter is just as important as having editorial reasons for starting it.
The number of subscribers needed in order to generate revenue from a newsletter is relatively small. If an organization is waiting for their audience to hit a certain size before they run ads, they're missing out.
Curated emails can still be revenue generators – don't fall back on automated ads. These emails would benefit from local ads (depending on the publisher) or sponsors.
Marketing and editorial emails need to be managed symbiotically and have similar or related strategies. Everyone should be pulling in the same direction and thinking about making a user-centered product.
First-party data is valuable to potential sponsors for showing the value of a product. Metrics that are useful for ad sales are not that different from the metrics for content success.
Successful newsletters are doing a ton of paid subscriber acquisition – namely, adding subscribers by advertising in other newsletters. Set an amount to spend on this. Set up an ad that allows people to subscribe to a newsletter in one click and run it in other newsletters.
Robust sponsorships for newsletters can take lots of forms, but the best ones aren't banner ads. Typical and successful sponsorships are a logo and a "sponsored by" message, then a piece of sponsored native content within the email. This adds performance value to newsletters and also psychological value for small publishers – it shows that they are trustworthy.
Sit with salespeople and find out how they sell a newsletter. They are probably positioning the product incorrectly, and the editorial and business teams need to work together to fix this.
Speakers: Ariana Rodriguez-Gitler (Digital Producer, Pew Research Center), Andrea Caumont (Digital Engagement Manager, Pew Research Center), Tanya Sichynsky (Newsletter Editor, The Washington Post) and Dan Oshinsky (Founder, Inbox Collective).
Learn how (and why) to distill your archives and content expertise into bite-sized email series that allow subscribers to learn at their own pace.
Takeaways:
Create a course based on a problem that the newsroom is trying to solve. For example, maybe there's a topic that a newsroom wants readers to understand better that they can't currently access or follow easily in one place. Or a newsroom wants to teach readers a series of recipes or is encouraging them to take a time-limited exercise challenge.
The format and design of courses look different than a standard email newsletter – for example, they have minimal graphics and are mobile-friendly.
The emails should stand on their own as much as possible and give full context, using few links.
Using material from the newsroom's archives to build courses can drive engagement and allow readers to go deeper into topics.
For readers, courses make content accessible and empower them to reach a goal. Plus, it's a finite number of emails – people will feel less overwhelmed.
For publishers, this builds their brand, expands their audience, generates high engagement rates and encourages experimentation.
Having a coach or guide to bring people through the course is helpful and puts a face to it.
Keep the emails short and scannable. If it seems like they're getting too long, maybe add another day to the course.
Engage the community by creating ways for them to write back to the newsroom, or interact on other platforms by submitting their own content and questions. And ask them for feedback through a survey in order to incorporate their ideas in future courses.
There are folks using this format to sell courses, so that's a possibility for people who want to monetize this. But for newsrooms that typically have free content, it's a harder sell to the audience to suddenly offer a paid course.
Speakers: Elisabeth Goodridge (Editorial Director, The New York Times), Scott Adams (Director of digital subscription product development, The Globe and Mail) and Kim Fox (Managing Editor, Audience, The Philadelphia In quirer)
Newsletters often have the happy benefit of driving more paid subscriptions. Take a look at the funnel for encouraging people to sign up to a newsletter and eventually earning those subscription dollars.
Takeaways:
Newsletters are both an editorial product and a tech product. Writers have to care about metrics; analytics and audience people have to care about content.
Readers might pay for newsletters in rare cases, but they're not coming to a newsroom to pay for their emails – they want the newsroom's content. The newsletter helps people be engaged, and that leads to subscriptions, but they probably aren't going to convert subscribers from scratch.
Know the best format and style for the product being launched. Is it a standalone product that people read in their inbox? Is it a series of links to click through? Is it host-based or subject-based?
When deciding to sunset a newsletter, determine whether to roll over the audience into something new. If that's not an option, tell them why the newsroom is ending the newsletter and encourage them to sign up for something else.
How can this newsletter stand apart from other similar products? Can it be invaluable to users? The products that fit this description engender the most audience loyalty.
Speakers: Eva Scazzero (Product Manager, Quartz); Dheerja Kaur (Head of Product and Design, theSkimm) and Roy Schwartz (Co-founder and President, Axios)
Emails can and should be great products that anchor and engender reader loyalty. By setting high expectations and productively managing engagement opportunities, newsrooms can, ultimately, give readers something great to love in their emails.
Takeaways:
People feel a connection to email newsletters and their writers and build a routine around opening the newsletter. The best email writers also think about their audience and feel a connection to them.
Email writing is and should be different from editorial writing. A writer can't serve an audience well if they're just taking a news story and copy-pasting it into a newsletter format. Newsletters should feel like they're made just for newsletter readers, not news story readers. Some good newsletters feel like they're written by a friend.
Some newsletters aim to drive traffic back to a website or other product; some emails are self-contained. Know which product is right.
Email is a permanent push to an audience and can't be taken back, which can be frustrating from a product perspective. But if mistakes happen, own them and make it clear there are humans behind the email – it builds trust with the readers.
Sometimes product managers perceive email as archaic and a place where experimentation isn't possible technologically, but this just isn't true. Test new ideas from readers and across the newsroom – it's possible something will stick. Innovation can also mean increasing efficiency and streamlining design.
Topline analysis of metrics is helpful to measure success, but if it's possible, analyzing readers at the individual level is even better – for example, segmenting folks who are less engaged and trying to reenergize them.
When gathering reader feedback, it's best and most helpful to make surveys part of the regular operation of the newsletter, rather than something that happens when the team wants feedback on something specific.
---
To learn about the latest training opportunities and resources from the Online News Association, subscribe to the ONA Weekly newsletter, follow us on Twitter @ONA and join our Slack community.
To explore partnerships, promotional opportunities and other ways to invest in ONA's programs and events, contact Chief Strategic Partnerships Officer Jessica Strelitz.
ONA was founded in 1999 as a forum for digital news pioneers to collaborate on common challenges and encourage the highest journalistic standards. Become an ONA member or make a donation to sustain our mission to inspire and support innovation and excellence in digital journalism.