Promoting to the ONA Network
There are many ways to share information across ONA's social networks and communications channels. If you are looking to promote an event, survey, seminar/training program, job/intern opportunity, fellowship, call for sessions/speakers, new tool/technology, workshop, or education opportunity, ONA offers several year-round and event-specific opportunities to reach our global community, including:
Newsletter Sponsorship
Participate in one of the most popular of ONA's digital offerings — our e-newsletters. Our reach and open rates have beat industry standards for years and our sponsored content is seen as a valuable community benefit.
Available newsletters: ONA Weekly, Annual Conference Newsletter, Annual Conference Daily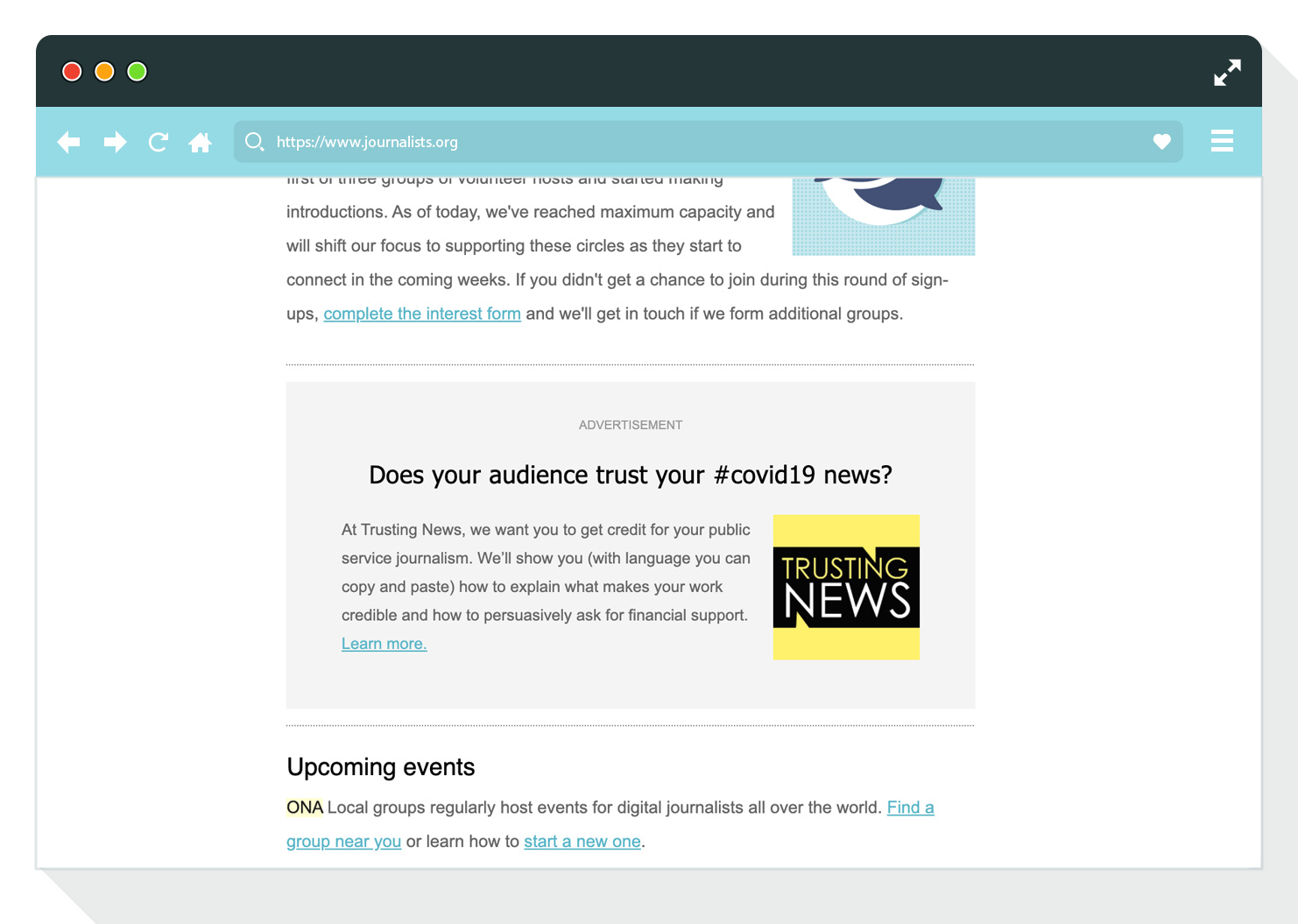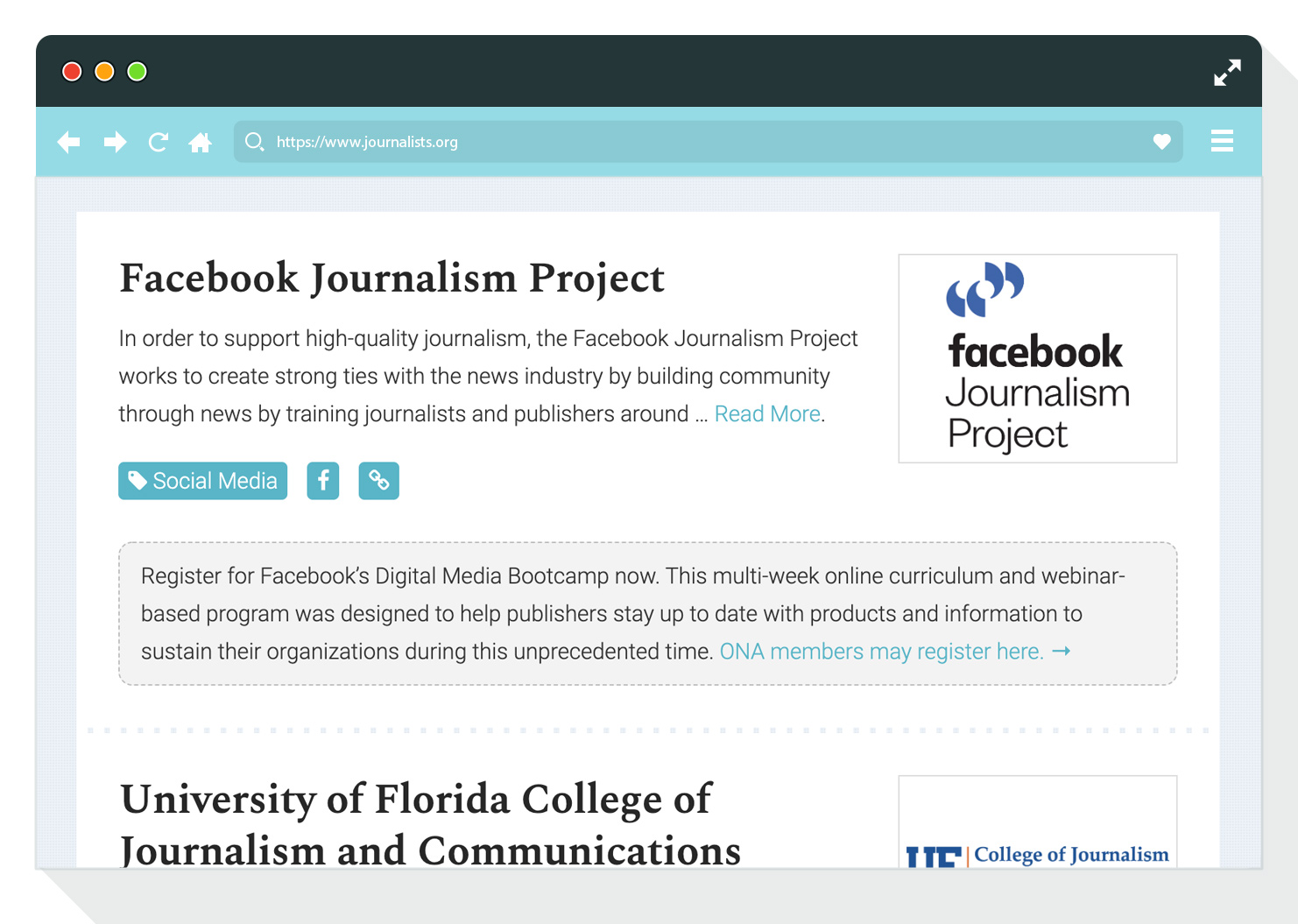 Industry Directory
The ONA Industry Directory is a new way for sponsors to reach our audience of digital journalists in a useful, searchable database. Directory listings are the best way to have a year-round presence with the community.
Digital Advertising
Show your support of the ONA Community where they are — in the content of the ONA digital network. With a digital ad you will have the exclusive sponsor message on a given page.
Available placements: ONA Career Center, Annual Conference website, journalists.org, ONA Ethics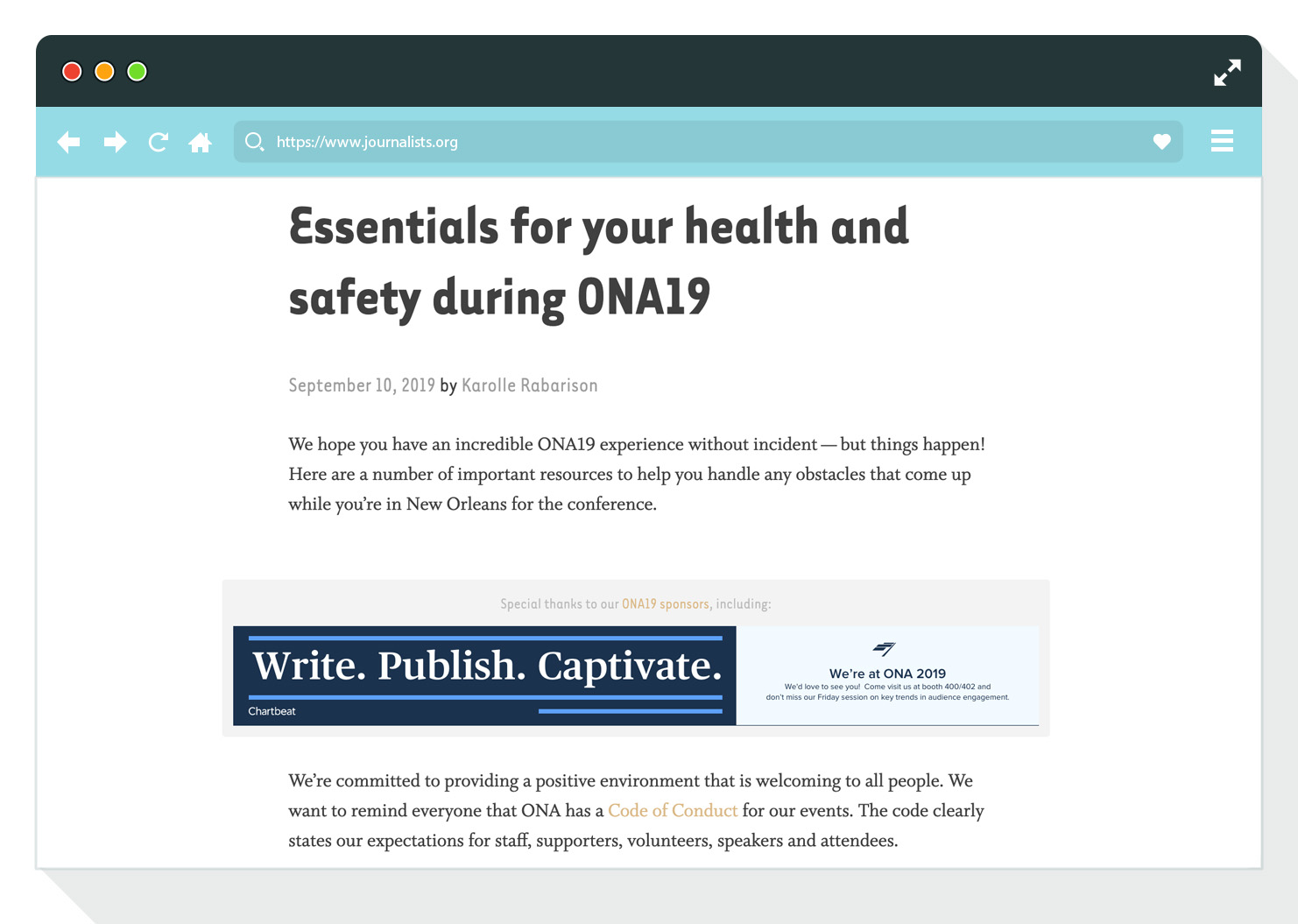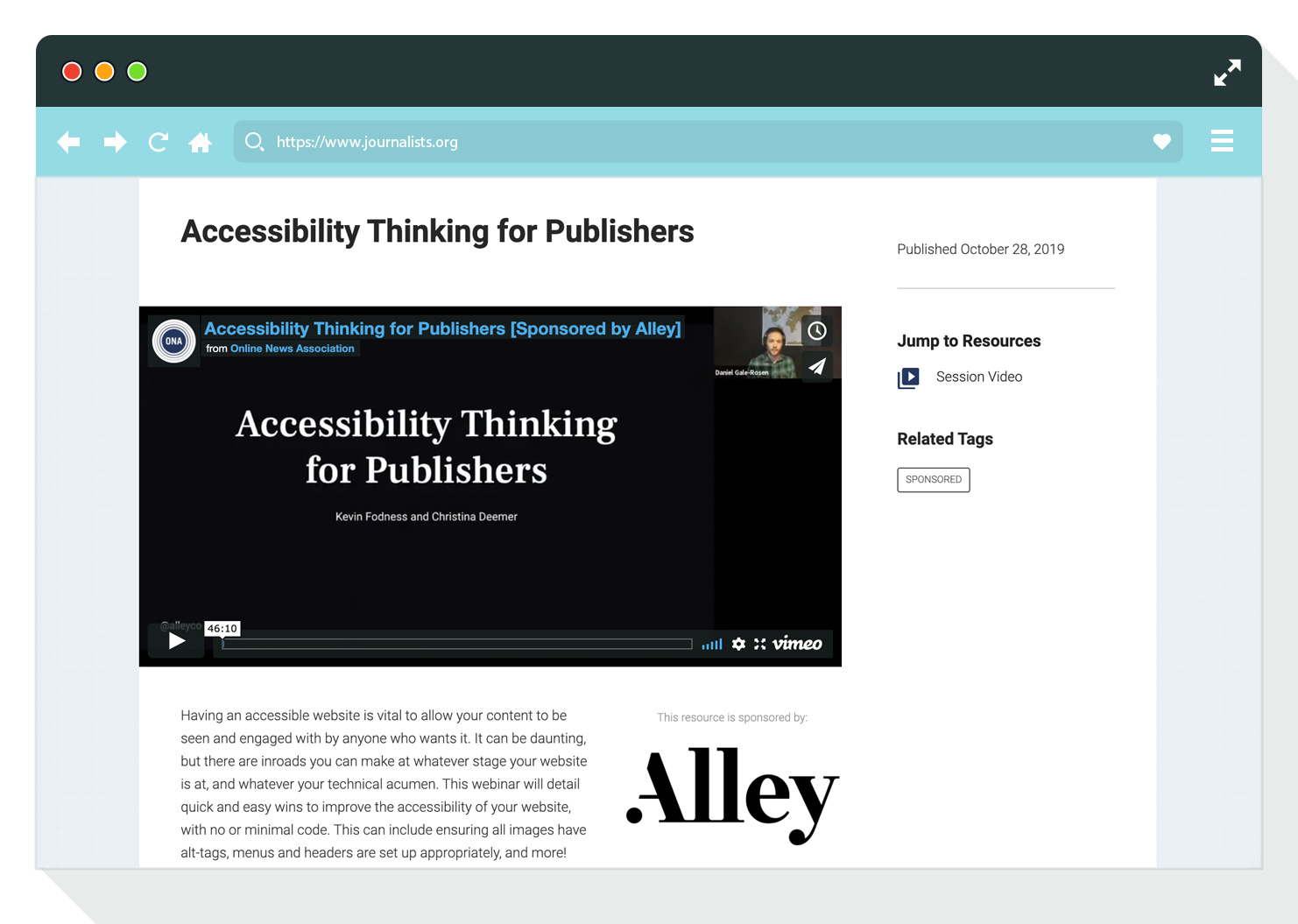 Sponsored Content
Contribute to the resources we provide the ONA community with your own expertise by sponsoring content. Our members see training among their top benefits and they want to hear from our sponsors.
Available Content: Events (including virtual), Resources, Blog Posts
Career Center
The ONA community members are digitally-savvy, ambitious and innovative — and a great target audience for your recruitment efforts. Each job posting is active in the ONA Career Center for 30 days.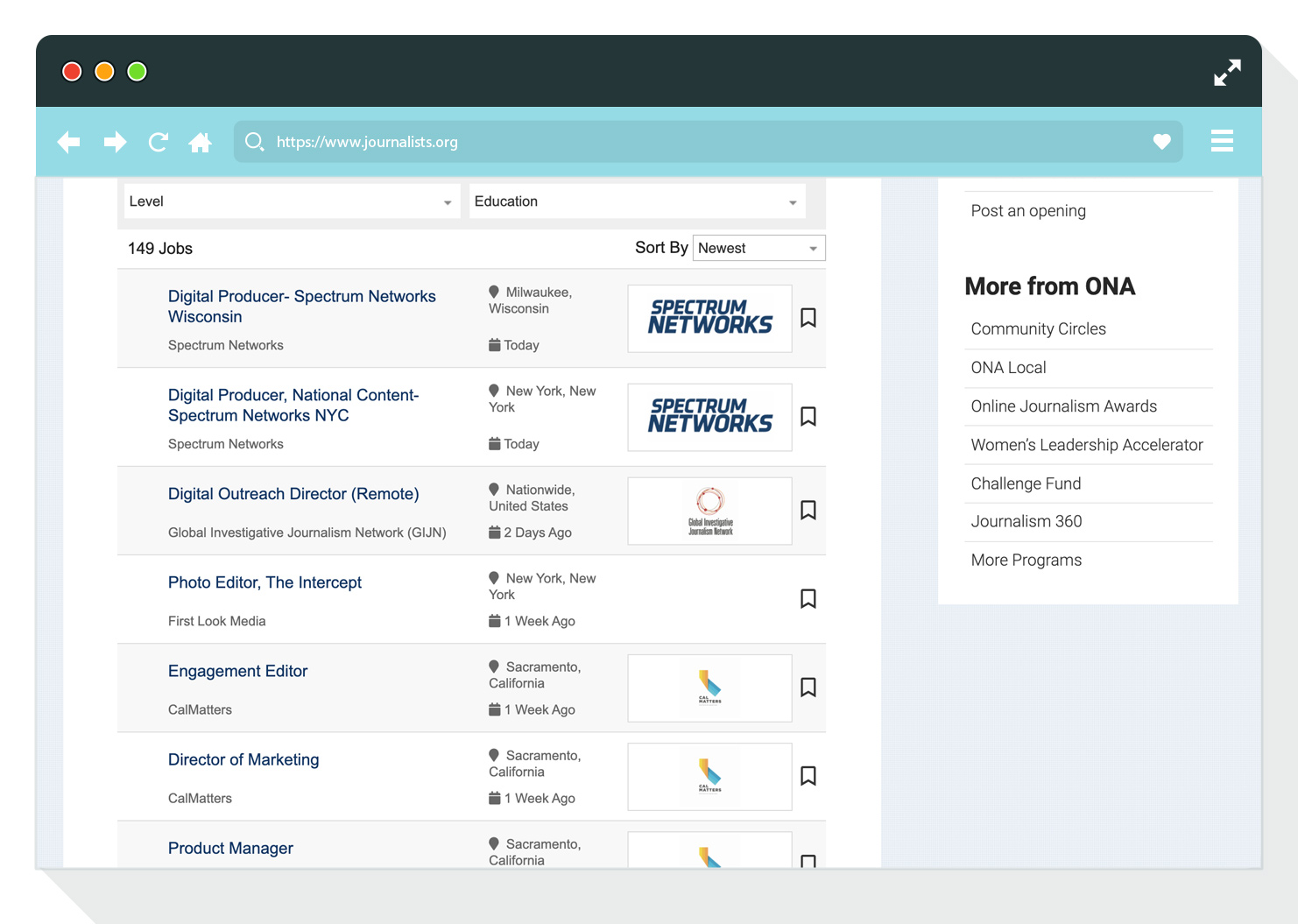 Additional Opportunities
Community Circles
ONA is looking to partner with sponsors and funders to support the education, community and cohort-building, as well as the overall health and well-being of professionals in the digital news industry, as part of our new Community Circles initiative. Details on supporting this initiative.
Insights training series
ONA hosts a series of half-day themed trainings throughout the year. Next up: two days of in-depth conversations on emerging technology and immersive journalism on July 29-30. ear from journalism innovators on how they're experimenting with new technology, tech leaders on what new trends they're most excited about and reporters on how they've incorporated new tech into their work. We'll discuss where immersive journalism is heading, the ethics of working with emerging tech, how newsrooms can harness the power of AI to improve their work, and more.
Women's Leadership Accelerator
WLA is a yearlong intensive program that supercharges the leadership and management skills of women who are pushing digital innovation. Each year we welcome a cohort of women representing a range of backgrounds, expertise and newsrooms around the globe. Our program is focused on digital skill development, and is a year-long commitment with touchpoints throughout that period, both as a cohort and connections to the broader WLA alumnae network. All class details from 2017-2020.
2020 Summer Series: ONA is hosting a series of conversations around women in digital news leadership Aug. 27, Sept. 3, 10 and 17.  Details to come!
Demographics + Details:
More than 1,800 applicants in the five years total that ONA has run this program
26 women in the 2020 cohort, 30+ speakers and mentors in LA, virtual training, summer convening and ONA20.
40% of the cohort identify as people of color
Geographically diverse group, with 6 international participants and representation throughout the US.
Variety of roles, newsrooms, beats, and organization sizes represented, plus several freelancers and nonprofit/small local newsrooms
Funders and sponsor support make this program completely tuition-free for our cohort. Contact ONA for details on supporting this initiative.
Local
Support our 50+ Local communities across the country and around the world. Organizers are looking for sponsor support to cover those in-person costs (when we can safely resume in-person meet-ups) and speaker support. This link includes maps for our US-based, student and International groups. Contact ONA for details on supporting this initiative.
ONA20 Everywhere is the world's largest gathering of highly engaged digital journalists who are shaping the future of journalism and technology. We anticipate hosting thousands of publishers, technologists, newsroom decision-makers, educators, designers, product managers, innovators and all types of digital media professionals as part of our annual event.
This will be a virtual event, allowing participants to join from around the world Oct. 1-16. There are several ways to connect with the ONA community, from being involved in our Midway exhibition and programming space, to program and session sponsorships and networking opportunities. Package details and pricing.
About the ONA Annual Conference audience:
20% of ONA19 attendees reported being the primary decision maker in purchasing decisions AND 61% reported having high or medium influence in decision making
32% were in senior management positions (director to C-suite)
31% of attendees were in management
70%+ were employed in the journalism space (16% were in related technology and tools; 11 percent were academic)
85% of participants report visiting the Midway or sponsor lounges during ONA19
To find out more, contact Jessica Strelitz at jessica@journalists.org or Hanaa Rifaey at midway@journalists.org.
Online Journalism Awards Celebration
A showcase of the best, innovative forms of digital storytelling, to be held in October. Opportunities available for program sponsorship and award support. Contact ONA for details.
Complimentary Promotions
Due to the number of requests, we are only able to offer a limited number of complimentary program and training promotions per month via social. All requests:
Must be free for participants
Have a primary audience of the digital journalism community
Inquiry must be sent at least 30 days from the date request
We do not send complimentary promotions for individual research, products, paid events or services. Please see our other promotional opportunities if you wish to share those with the ONA community. If you are a media nonprofit and have a promotions request for a no-cost program or training opportunity, please contact us.
If you are interested in partnering on an event or fellowship, would like to explore sponsorship, the Midway or exhibit space at our annual conference, or are looking to support ONA Local any of our specialty programs, leadership and education opportunities, please contact Jessica Strelitz at jessica@journalists.org for details and packages.