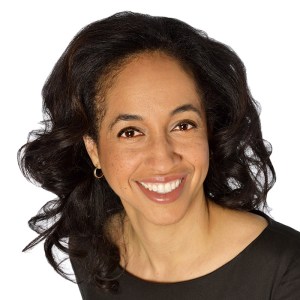 Geraldine Moriba is an award winning journalist and filmmaker who uses her passion for storytelling as a tool for social responsibility. Geraldine is a Stanford University Brown Institute research scientist and a recent John S. Knight Journalism Fellow. Her research focuses on ways to use machine learning to identify editorial patterns. She is also the host and executive producer of "Sounds Like Hate," a new podcast series funded by the Southern Poverty Law Center about how American extremists become radicalized and how some of them change.
Geraldine's production company Moriba Media specializes in broadening narrative experiences. She is the Executive Producer of a four-part PBS documentary "
Sinking Cities
" is about rising seas in NY, Tokyo, London and Miami. She was also the Executive Producer of the PBS multi-platform initiative  "
Chasing the Dream
" about poverty and economic opportunity.
Prior to launching her own media production and consulting business Geraldine held a blended role as an Executive Producer with CNN's program development team and the Executive Producer of "In America," an award-winning, documentary series exploring American identities. She was also the VP for Diversity, Equity and Inclusion for CNN Worldwide. While at NBC News and MSNBC Geraldine served as a Senior Producer with Standards and Practices and as an executive producer of live broadcasts and news specials.
Geraldine is the Writer and Co-Director of
Until20
, an independent documentary about a young athlete diagnosed with a rare cancer and his pursuit of life.
Her work has earned her many industry accolades including five Emmy Awards, an Alfred I. DuPont Award, two Peabody Awards, the distinguished Princeton University Ferris Professorship of Journalism Fellowship, the Anita Hill Gender Justice Award, two RTNDA-Unity Awards, four New York Film Festival Awards, two NABJ First Place Documentary Awards, and more.