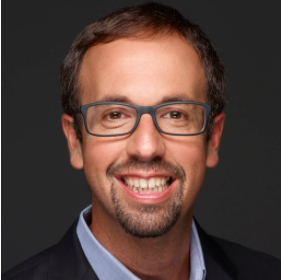 This is a candidate for the 2023-24 ONA Board of Directors election
Dan Gilgoff is a two-time past candidate for the ONA board who refuses to give up. He joined ONA after his unorthodox God-o-Meter blog, which documented the role of religion in the 2008 presidential race, was a surprise winner for that year's Online Journalism Award. His journalism career since then has led him to expand religion blogging into a team sport (as CNN.com's first religion editor), to leverage visual/social storytelling to inspire wonder and environmental consciousness (as National Geographic's top digital editor) and to use service journalism to share crucial advice on issues like how to vote and get Covid-19 vaccinations in every state (as AARP's digital special projects editor).
Gilgoff is running for the ONA board to strengthen the online journalism community at a time when we're beset by huge challenges: struggling business models, overwhelming newsroom pressures, eroding public trust, torrential quantities of online misinformation and more. Our industry's survival and continued relevance depends on journalists and the organizations that employ us banding together to face these challenges head-on and boldly experiment with solutions.
Dan's vision for the future of digital journalism
The future of digital journalism is the future of journalism.
Our industry faces existential challenges, from shrinking newsrooms to eroding public trust to ongoing roadblocks to diversity and equity, both in terms of who staffs news orgs and who advances in them — which determines who gets to pick and tell the world's stories — and also in terms of who has access to digital news. That access has become critical to being an informed, effective person and citizen.
My vision for our future is one in which journalists have more opportunities to work together to acknowledge these challenge, test out solutions and share evolving best practices. Strengthening our journalism community and its relationship with the broader public is essential to moving forward and ONA is a key vehicle for this work:
–As many newsrooms continue to shrink, disappear and grapple with major economic threats — especially at the local and regional level — our industry can do a better job sharing lessons around building digital subscribers, launching events businesses, exploring nonprofit models and more. We must also look after journalists affected by massive consolidation and change, from providing skills training and mental health support to sharing job opportunities, including those in less traditional content environments, like with non-news corporations and nonprofits who've entered the digital content space.
–As public trust in journalism crashes to record lows, we must do more to acknowledge the problem, accept a degree of responsibility and work to rebuild trust by taking steps to engage the public. That includes people in rural, conservative and economically distressed parts of the country, in black and brown communities, as well as younger Americans, who see little distinction between sources of online information. We can do a better job explaining why we do journalism, how we do it and listening to feedback.
–We must make more progress on increasing diversity and equity in journalism. Many online news orgs have committed to DEI efforts in recent years and have taken steps toward implementation. But most have struggled to realize their goals for hiring, career advancement and creating inclusive newsrooms where all feel empowered to do their best work and shape the journalism. We also need to increase public access to online news so that it doesn't become a luxury good that's off-limits to most Americans, at a huge cost to our democracy.
Please send me your priorities for our future at dangilgoff@gmail.com. I'd appreciate your vote!