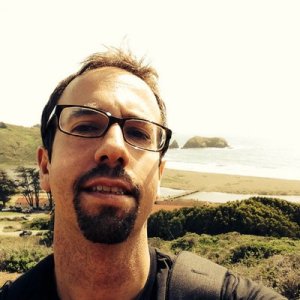 This is a candidate for the 2018-19 ONA Board of Directors election
Vision
There's never been a more important time for ONA, as it grows around the world and raises the bar for what a digital journalism conference could be with each passing year but also faces the challenges of growth—like defining and delivering on its mission and role in members' lives beyond the annual conference.
I'd be honored to have the opportunity to help my favorite professional organization on the planet harness its growth to make a real difference in our industry and in the lives of digital journalists, including for a generation of digital natives who are already transforming our field.
I ran for the ONA board last year and lost.
The experience taught me that ONA is active on more fronts than most members realize, from its recent international conferences to shaping federal legislation to running life-changing programs for communities that are unrepresented in newsrooms.
The board run also introduced me to ONA's extraordinarily dedicated staff and to current board members, whom I've spent time with as I prepared to make another run this year, learning about the issues ONA is grappling with now. These conversations have shaped my vision for the organization.
If elected I'll focus on four things:
Helping ONA define and stay true to its mission and relevant to its members as it continues to grow, especially on the role it can play in journalists' lives beyond the annual conference and in communicating that to its members.
Launching more ONA Local groups on college campuses, especially those with strong journalism programs, so we're building a network of next-generation digital leaders.
As ONA goes global, establishing its role abroad, with a focus on using digital media to advance press freedoms in parts of the world where they are limited or threatened.
As an executive newsroom leader, I'd also use my network to help ONA with its crucial fundraising efforts.
ONA has repeatedly changed my professional life since I attended my first conference in 2008 and ran up to my hotel room to record my first video blog. Since then, I've applied lessons from ONA conferences to grow digital journalism at global media organizations, hired from the ONA network for key roles, and helped organize ONA Local events in Washington.
I'm hoping to take my level of involvement and service to ONA to a whole new level and would be so grateful for your vote. If you have questions or want to get in touch, please tweet me: @dangilgoff.
Bio
Dan Gilgoff is Executive Editor for Digital at National Geographic, leading the digital newsroom for a 128-year-old media organization in startup mode.
He has worked as religion editor at CNN.com, as a writer for U.S. News & World Report, and as a politics blogger for a platform called God-o-Meter (it won an Online Journalism Award that got him to his first ONA conference nearly a decade ago).
Gilgoff has been passionate about digital journalism since it gave him the ability to break daily news at a newsweekly magazine 15 years ago. He developed a passion for leading digital teams when he launched a blog and discovered that all its contributors had better ideas than he did.
Gilgoff wrote a book called "The Jesus Machine: How James Dobson, Focus on the Family and Evangelical America are Winning the Culture War," and his journalism has appeared in The New York Times, The Washington Post, and Politico.
He lives outside of Washington with his wife Rebecca, who works in TV news, and their three children, who are exposed to way too much news for being under 10.
Industry Involvement
I've been active in ONA since attending ONA08 in Washington, D.C. The people I met there changed my career trajectory and the conference infused me with a deeper understanding of the possibilities for digital journalism. I've attended five national conferences and many more ONA Local events in Washington, and I've helped organize ONA Local events at National Geographic headquarters. I've enlisted the ONA network in hiring for National Geographic, have pushed staff to become active in the organization, and have finagled financing to send many employees to ONA conferences.
Nomination
Nominator: Meredith Artley, Editor in Chief and SVP, CNN Digital
Nominator Membership: Professional
I am writing to urge the Online News Association's Governance Committee to consider my nomination of Dan Gilgoff to run for ONA's Board of Directors. Gilgoff worked under me at CNN.com from 2010 to 2012, when he was religion editor, launching a digital platform for investigating religion's role in headline-making stories every day and helping steer the network's on-air coverage of religion in the news.
Gilgoff has a history of participation and service with ONA, helping arrange multiple ONADC events at National Geographic, frequenting other ONADC events, and attending 5 ONA conferences—including his first conference, in 2008, when he won the Online Journalism Award for commentary. As a manager, he has repeatedly hired from the ONA network. And he has spent time with many current and past ONA board members to get a feel for the issues before the board and for the expectations for productive board members.
Gilgoff and his teams have won a handful of Online Journalism Awards. At CNN.com, he led a team of journalists to win an OJA for beat coverage in 2010 and to be nominated for the same award the following year.
As Executive Editor for Digital at National Geographic and as leader of its digital newsroom, Gilgoff represents the kind of executive digital leadership that is vital to a robust ONA board, and that will be less represented after I step down at year's end. Executive leaders have firsthand knowledge of the big and fast-evolving organizational issues that major digital media institutions are grappling with every day and make their organizations aware of the issues that are important to ONA. They are also key to ONA's fundraising efforts.
Gilgoff is focusing his platform on ensuring that ONA stays relevant and responsive to its members and focused on its mission as it experiences rapid growth; on giving the organization a meaningful role in the professional life of its members beyond the annual conference; and on seeing that the organization remains committed to diversity on multiple fronts, including through doing more to nurture on-campus ONA Local groups.