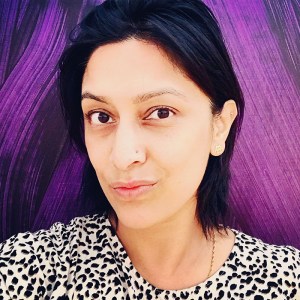 Shazna is a candidate for the 2020-21 ONA Board of Directors election
Shazna Nessa is the Global Head of Visuals at The Wall Street Journal. She leads the organization's strategy for visual journalism with oversight of the graphics, photography, design and news developer teams.
Prior to that, Shazna was director of journalism at Knight Foundation, where she developed initiatives and grants to support innovation in the field.
She has 20 years of newsroom experience, having started her career in technology and interactive design.
Previously she was a deputy managing editor at the Associated Press, with oversight of editorial products. In that role she played a key role in the creation of AP's first mobile, social media and data teams. Prior to AP, Shazna worked at Conde Nast Portfolio.com, overseeing interactive stories and video.
Shazna taught the inaugural "design for journalists" course at CUNY and is on the board of advisors for the Tow Center at Columbia University and the Journalism + Design program at the New School.
Shazna was born and raised in London and graduated from the Sorbonne in Paris. She was a 2008 Sulzberger fellow and a 2014 John S. Knight journalism fellow at Stanford University.
Candidate Lightning Talk
Describe why ONA members should vote for you. What skills you would bring to the ONA Board?
My involvement with ONA has been rich! I am currently an officer of ONA's board and have served on its strategic committee and also as Vice-President of the OJAs for 2019. I ran the the Community Awards for the last two years and have helped to refine criteria and coalesced the committee. My involvement with ONA prior to being on the board was also very involved because the organization was part of my portfolio when I worked at The Knight Foundation. I worked closely with the ONA team on budgets, events, new and old programs, and oversaw regular reports and requests for new funds to the board. I helped develop the first version of WLA when it was a collaboration with Poynter. I developed Journalism 360 and took the lead on suggesting and implementing ONA as partner for this project. Prior to this I have been a speaker at the annual conference several times, participated in mentorship breakfasts, and also represented my employers at various Midway booths.
On the professional front I have diverse experiences that strengthen what I am able to bring to the board. I have been a maker and builder, but also managed and led teams large and small. My 20-year newsroom career has always been at the intersection of journalism and technology, starting with my very first journalism job as an interactive news designer at The Associated Press in 1999. Before joining a newsroom, I worked for a technology startup, and was a professional web designer and developer.
I would bring knowledge from all of these experiences and more, along with a curious, analytical, and human-centered approach.