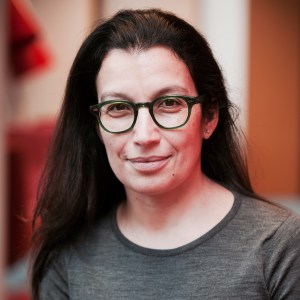 Nathalie is the Mobile and New Formats Editor for BBC News — developing apps for a global audience as well as devising ways of telling stories on different mobile platforms. Currently she is leading the BBC's work on video formats, notifications and personalisation, co-ordinating the efforts of journalists, technologists and designers.
Nathalie also works closely with the BBC's Academy to design training; evangelise about digital journalism; mentor journalists and technical staff; and offer support to apprenticeship and trainee schemes.
She launched a Webby award-winning innovative vertical video service in the BBC's news app.
Previously, as World Executive Editor, Nathalie had responsibility for BBC News Online's international journalism. She introduced changes in storytelling, established teams in Washington, DC and Singapore, and oversaw the launch of a North America edition — which won a Peabody for excellence and a Webby.
Nathalie began her career in Chile as a magazine reporter. She moved to London in 1997 to pursue a master's degree in media and communications at LSE. Two years later, she joined the BBC's Latin American radio service. One chance shift on the Spanish-language website changed the course of her career…
---
Below is Nathalie's submission as a candidate for the 2018-19 ONA Board of Directors election
Vision
ONA is a force for good in journalism and a fantastic resource for those practising it. Its ambition should be to increase its international footprint to the benefit of members both inside and outside the US. A more global and diverse membership would enrich us all and serve our industry.
I have met hundreds of digital leaders, journalists and students from around the world. I'm always struck by how similar the challenges we all face are, regardless of differences of culture, language and circumstance.
In a fast-changing environment, there is a huge desire to learn from others' experiences and also a willingness to share solutions. ONA is one of the few organisations capable of harnessing this by building global networks of digital journalists beyond the current main conferences.
Diversity is one of the issues media organisations around the world grapple with. ONA has led the way in the US — but how can it be replicated elsewhere? Similarly, journalists from distant corners of the globe create innovative solutions and tools they would happily to share with a wider audience.
So, what I would bring to the board:
Global perspective: I'm a bilingual journalist, with extensive experience in a news organisation with huge international presence.
Awareness: As a teenager I worked as a fixer for British TV teams during Chile's military dictatorship, which gave me some sense of the restrictions and dangers many other journalists brave on a daily basis.
Strategic thinking: I work at the forefront of digital innovation, bringing together teams of journalists, technologists and designers. I know what it takes to deliver digital editorial content beyond great journalism.
Diversity champion: As a senior person at the BBC I have made sure that diversity is not limited to recruitment but also ensuring people from different backgrounds have a strong voice when it comes to output and decision-making.
Mentoring experience: I'm particularly focused on women looking for more senior roles and young people who are just starting out.
Openness: I have always shared our experiences of digital transformation and best practice with colleagues, whether they are from large organisations or start-ups or they are lone operators. I believe this makes the industry as a whole stronger.
Values-driven: I have had the privilege of working in an organisation that has independence, excellence, integrity and audiences as some of its core principles.
Training skills: I have devised and delivered training (online, in classroom settings and big auditoriums) for different groups — from apprentices with no formal journalistic experience up to senior leaders in charge of digital change.
Industry Involvement
A professional member since 2013, I was on the program committee for ONA14 and London15, speaking at conferences and local events. I have also screened OJA entries.
My 25 years in journalism have been almost entirely devoted to digital. Working in Spanish and English, I've trained and led large editorial teams, launched cutting-edge products and represented the BBC at key industry events.
I've mentored both journalists and technologists — mostly women and people from diverse backgrounds — and worked with apprentices to ensure they are ready for BBC jobs.
Nomination
Nominator: Steve Herrmann, Editorial Director, BBC Monitoring
Nominator Membership: Professional
I would like to nominate Nathalie Malinarich to serve as a member of the ONA Board of Directors.
Nathalie has been an active member of ONA for several years. She has spoken at ONA conferences and has also been on the program committee for two of them. She has screened OJA entries and taken part in local events. In short she has shown a strong commitment to and interest in ONA, and I think she would have even more to contribute as a board member.
Nathalie has been working at the leading edge of digital journalism for more than a decade, steering editorial teams through digital change and pioneering new services and ways of working for BBC News in a variety of senior roles, most recently as Mobile and New Formats Editor. She has a formidable grasp of digital storytelling techniques and how they are evolving, and the ability to work across and lead multidisciplinary teams to produce great results.
Nathalie also has a strong interest and background in training, mentoring and diversity. Working in both Spanish and English with journalists in different international locations, she has demonstrated an impressive ability to spot, encourage and develop new talent in order to build strong teams.
I would strongly recommend Nathalie as an ONA board member, because of her commitment to ONA, her expertise in digital journalism, and her breadth of leadership and wide international experience, all of which would I think significantly contribute to ONA's capacity to meet its mission and goals.