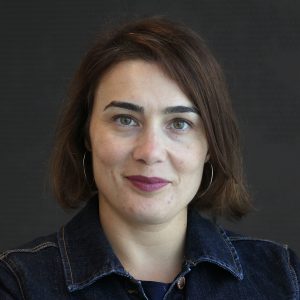 This is a candidate for the 2018-19 ONA Board of Directors election
Vision
With over 15 years of newsroom experience, I'm well positioned to support, enhance and accelerate the success of the ONA mission. Whether launching live blogs, building teams and communities or creating social video strategies, I have enthusiastically sought out, and embraced, change throughout out my career. I will bring that energy and expertise to the Board.
Change is a reality in modern journalism. While we have always known that the platforms and methods with which we share our stories would continue to evolve, the speed at which our industry has changed has outpaced even the most aggressive predictions.
For this reason, the mission of the ONA to support innovative journalism through a three-pronged approach of training, awards and community outreach has become even more relevant as journalists navigate an unpredictable future. Through my own experience as a reporter, manager, director and executive, I have realized firsthand the utility of this three-pronged approach and the resulting benefits both personally and amongst colleagues.
I am Head of Newsroom Development at The Globe and Mail, where I lead and develop a sustainable newsroom culture as well as promote diversity in staff and freelance voices. To that end, I spent much of last year retooling and reorganizing our newsroom structure to break down lingering legacy silos. The result has been record-setting collaboration among sections and staff as they produce our strongest and most ambitious journalism to date.
Much of my current role deals with the unspoken needs of the newsroom — easier workflow, better allocation of newsroom resources, increased career mobility and simplified organizational structure. I work to break down longstanding silos between digital and traditional reporting.
Bio
As Head of Newsroom Development at The Globe and Mail, Angela drives the cultural evolution and fortifies a diverse, sustainable and strong newsroom. Her role is pivotal to addressing the needs of the shifting landscapes of the industry and is founded in audience-first thinking.
Her origins as GA reporter for The Canadian Press in 2000 gave her the experience of beat reporting for the music and technology industries and showcased early experimentation with CP's live blog. In 2006, her innovative thinking led to her promotion to Director of Online News, where she launched Canada's first web video service and grew a department that created content for nearly every media outlet in Canada.
In 2009, Angela joined the ONA's Toronto chapter, of which she's currently co-chair. In 2016, she worked on ONACampTO, which attracted over 150 digital journalists to engage with ONA.
Angela is rooted in mentoring up-and-coming journalists with a focus on building stronger women for leadership roles in journalism. She speaks publicly as an authority on gender equity, journalism trends and newsroom culture change. In recognition of her impact at The Globe and Mail, she was a delegate of the 2017 Governor General's Leadership Conference.
Industry Involvement
My involvement with ONA began in 2009 when I planned local chapter events and volunteered at the annual conference, held in Toronto that year. Since then, I've run dozens of pub nights and workshops, launched local Twitter, MeetUp and FB accounts and, most importantly, recruited two fabulous co-chairs. I spoke at #ONA15 on video, and this year, I'm presenting on legacy newsrooms & org structures. I've been an award screener for the last two years. I helped organize (& presented) at ONACampTO in 2016, which attracted 150 people. I guest speak at universities, and I've consulted on several journalism curriculums.
Nomination
Nominator: Shannon Busta, Head of Emerging Platforms, The Globe and Mail
Nominator Membership: Professional
Please accept my nomination of Angela Pacienza for ONA Board of Directors. I've worked with Angela for six years and can't think of anyone better suited to the position or more deserving of it.
When Angela first came to The Globe and Mail to head up its expanding video team in 2011, I knew she had her hands full. Effecting change at a large, legacy publication is no easy task, but Angela took on the challenge and excelled.
In a short period of time, Angela was able to reorganize and redirect The Globe's video product, launching a daily live online show and overseeing the production of multiple award-winning mini-docs and video series. Never satisfied and always with an eye to the future, she then aggressively pursued a strategy for social video at a time when few newsrooms in Canada were even considering what social-first video might look like.
Angela's time leading the video department at The Globe was a success on many levels, but in my view, her greatest successes were the young journalists, myself included, who she mentored and helped move on to bigger and better things.
Angela has herself moved on to bigger and better things. She is now the Head of Newsroom Development at The Globe, a masthead position that suits her strengths perfectly.
Angela's work ethic and dedication to be ahead of trends in our changing industry serve as a constant reminder to my colleagues and I of what it takes to succeed and effect meaningful change in journalism.
Angela is an innovator, a leader, and a mentor within The Globe newsroom and the wider journalism community across North America.
Her work leading local ONA events in Toronto is how I first became familiar with the organization. Her encouragement and guidance played a big role in my pitching a session and being accepted as a speaker at this year's ONA conference in Washington, D.C.
Angela Pacienza is exactly the type of future-minded innovator and thoughtful leader the Online News Association should have as a member of its Board of Directors.