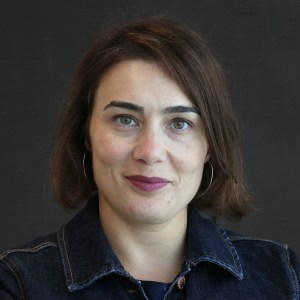 Angela Pacienza is the Executive Editor at The Globe and Mail. The masthead role includes oversight of the programming, audience, editing, podcast and visual journalism teams. From breaking stories as a beat reporter at The Canadian Press to launching Canada's first video wire service and overseeing a massive newsroom re-org at The Globe and Mail, Angela's specialty is driving culture change to create more nimble, inclusive and forward-thinking newsrooms. Angela is a graduate of the Online News Association's Women's Leadership Accelerator program (2018) and a mentor with Digital Women Leaders. She first got involved with ONA as a volunteer stuffing delegate bags at ONA07.
Describe your vision for the future of digital journalism. How would you reimagine the journalism industry?
Digital disruption continues to change at break-neck speed, and as an industry we have struggled. We've resisted change. Forgotten our core mission. Neglected our readers. And this past year, our staff burned out.
But as an industry we've also shown incredible resilience and forward-thinking. Below are some thoughts on what my vision of the future of digital journalism would include.
We have to invest time and energy developing the next generation of newsroom staff and leaders so they can build a sustainable workplace culture, one that is open to new ideas, attentive and diverse. And not just because it's trendy.
We're already starting to see a new, more progressive era of community, both inside and outside the newsroom. But it will slip by if we don't strengthen our foundation and build out true reader-supported media outlets. This means entering lasting relationships with our audience, and using all the tools available to us to truly listen. We've seen some great examples but they remain outliers and not the norm.
Before we can get the audience to trust us, we have to trust each other. That means coaching, mentoring, actively listening and taking chances on people and ideas – especially if they're different from the ones we are used to. We can't keep doing things the same way and expect a different outcome.
Whether it's with tech companies, non-profits, or each other, the future will require equitable, more transparent collaborations and partnerships. We need to team up and share best practices.
Much of my journalism career has been focused on driving culture change through leadership that can better support strong journalism, innovative storytelling and audience growth. In building more modern newsrooms, I've been particularly focused on the impact diversification of staff, especially the retention of women at the management level, can have to our business.
I've been fortunate to be involved with ONA since 2007. Since finding this community, I've had the opportunity to meet and learn from so many people, as well as share my learnings. When I participated in ONA's Women's Accelerator Program in 2018, I focused on inclusion and its positive effects on news coverage and audience growth (ie subscriptions). Since then, so much has changed in our world and ONA has been there to support and champion this industry.
ONA is truly a collaborative organization that works together to amplify and lift up each other. I would be honoured and work hard to support and strengthen that core mission if elected to the board.
Thanks for your consideration.