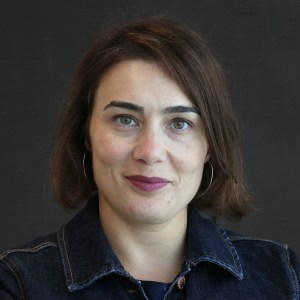 Angela Pacienza is Head of Experience at The Globe and Mail, a senior masthead role that combines oversight of programming, editing and visual journalism teams. Her 18-year career has focused on closing the gap between storytelling and audience and leading and designing new approaches to digital, print and video journalism.
From breaking stories as a beat reporter at The Canadian Press to launching Canada's first video wire service and overseeing a massive newsroom re-org at The Globe and Mail, Angela drives culture change to create more nimble, inclusive and forward thinking newsrooms. She has managed the coverage of major news stories, oversaw daily video production from the 2010 Vancouver Olympics and produced digital-first election debates.
Angela is currently co-Chair of ONA's Toronto chapter and helped organize the 2018 ONA Insights conference, hosted at the Globe and Mail in Toronto. She's been an Online Journalism Award screener for several years, and this year was a judge.
Angela speaks nationally and internationally at conferences and universities about journalism trends and newsroom cultural change. In 2018 she was selected for the ONA Women's Leadership Accelerator, where her project focused on inclusion and its positive effects on news coverage and audience growth.
---
As a candidate for the 2019-20 Board of Directors election, Angela submitted the following information. Learn more about the election process.
ONA Involvement
I started with ONA in 2009 planning local chapter events and volunteered at the conference, held in Toronto that year. I've since helped run dozens of pub nights and workshops, co-launched local Twitter, MeetUp and FB accounts and, most importantly, recruited two fabulous co-chairs. I spoke at #ONA15 on video, at #ONA17 on org structures. I was an award screener in 2016 and 2017 and this year was a judge. I helped organize ONACampTO in 2016 and ONA Insights 2018. I am part of this year's Women's Leadership Accelerator class. I regularly speak at universities, and advise on journalism curriculums.
Vision for ONA
With 18 years of newsroom experience, I'm well positioned to support, enhance and accelerate the success of the ONA mission. Whether launching live blogs, building teams and communities or creating social video strategies, I have enthusiastically sought out – and embraced – change throughout out my career. I will bring that energy and expertise to the Board.

Change is a reality in modern journalism. While we have always known that the platforms and methods with which we share our stories would continue to evolve, the speed at which our industry has changed has outpaced even the most aggressive predictions. For this reason, the mission of the ONA – to support innovative journalism through a three-pronged approach of training, awards and community outreach – has become even more relevant as journalists navigate an unpredictable future. Through my own experience as a reporter, manager, director and executive, I have realized first-hand the utility of this three-pronged approach and the resulting benefits both personally and amongst colleagues.
As Head of Experience at The Globe and Mail I manage our programming (digital and print including newsletters, alerts, social), editing and visual journalism teams. A large part of my management role requires me to help the newsroom satisfy audience needs above their own. This requires a lot of mentoring, innovation and training, much of it in non-traditional ways. It also requires a nimble mindset so we can quickly evolve workflows, partnerships, experiments, etc. I would bring all those skills to ONA.
Active with ONA Toronto since 2009, as a chapter co-chair, presenter and event organizer I believe regional groups are the future of ONA. Recognizing the disparate needs of various chapters, I would work within our existing ONA strategy – which already includes great events like NOLA and mini conferences – to support and enhance intra-chapter and cross-chapter support across similar geographic and demographic regions. Independent, engaged and active local chapters would strength the reach of ONA across the globe.

I'm passionate about digital storytelling and ensuring a strong independent media voice in the public space. To that end, I will support issues that matter to today's journalists – building audience trust, source protection and career development among them. We must prepare members for an unpredictable future.
I am confident that I can make a lasting impact to the ONA. More importantly, I know that I can add to the existing benefits and support that the ONA provides individual members and the communities in which they are a part.
Shannon Busta on Angela Pacienza
Please accept my nomination of Angela Pacienza for ONA Board of Directors. I've worked with Angela for seven years and can't think of anyone better suited to the position or more deserving of it. She continually raises the bar for how leaders can shape and adapt to the constant changes facing our industry.
In the last year alone Angela has taken on her second Masthead role at The Globe as Head of Experience, has helped organize a successful ONA Insights conference, participated in the ONA Women's Leadership Accelerator and mentored countless reporters and editors across our newsroom.
When Angela first came to The Globe and Mail to head up its expanding video team in 2011, I knew she had her hands full. Affecting change at a large, legacy publication is no easy task, but Angela took on the challenge and excelled.
In a short period of time, Angela was able to reorganize and redirect The Globe's video product, launching a daily live online show and overseeing the production of multiple award-winning mini-docs and video series. Never satisfied and always with an eye to the future, she then aggressively pursued a strategy for social video at a time when few newsrooms in Canada were even considering what social-first video might look like.
She is now applying her keen journalistic eye and knowledge of media trends to the wider newsroom. Angela's work ethic and dedication to stay ahead of trends in our changing industry serve as a constant reminder to my colleagues and I of what it takes to succeed and affect meaningful change in journalism.
Angela is an innovator, a leader, and a mentor within The Globe newsroom and the wider journalism community. Her work leading local ONA events in Toronto is how I first became familiar with the organization. Her encouragement and guidance played a big role in me pitching a session and being accepted as a speaker at last year's ONA conference in Washington, D.C.
Angela Pacienza is exactly the type of future-minded innovator and thoughtful leader the Online News Association should have as a member of its Board of Directors.