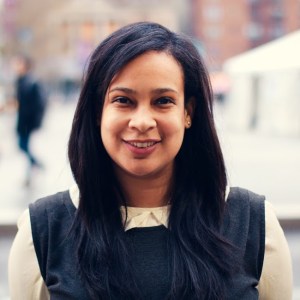 Roxann Stafford is the managing director of the Knight-Lenfest Local News Transformation Fund, a $20-million initiative that works to empower local news organizations to build trust with their audiences while producing outstanding journalism and developing new revenue streams that can enable them to reach long-term business sustainability.
Stafford most recently served as Director of Program for Matter in New York, a startup accelerator and venture capital firm grounded in the principles of design thinking that supported early-stage media entrepreneurs. There, she oversaw all aspects of the fund's accelerator program for early-stage media entrepreneurs. She has worked with local news organizations around the United States and Asia as well as with national outlets such as The New York Times and The Associated Press.
Prior to her time at Matter, Stafford was SecondMuse's director of design & learning, where she worked on a variety of innovative collaborations including LAUNCH, National Day of Civic Hacking, New York's Next Top Makers (now Futureworks), Internet Freedom and strategic guidance for developing a sustainable apparel and footwear industry. Before joining SecondMuse, she was a consultant at FSG where she developed strategies, evaluation plans, and implementation plans in Shared Value and Collective Impact. As a Senior Associate at Jump Associates, an innovation and growth strategy firm that specializes in helping businesses discover new opportunities for progress. She worked with visionary organizations, including HP, Target, and the Kellogg Foundation, to identify new markets, reinvent existing categories, and develop new sources of revenue. Stafford continues to be a Guest Lecturer at the Stanford University School of Engineering and d.school. She earned a bachelor of science degree in product design from Stanford University and an M.B.A. from Duke University, with concentrations in social entrepreneurship and strategy.