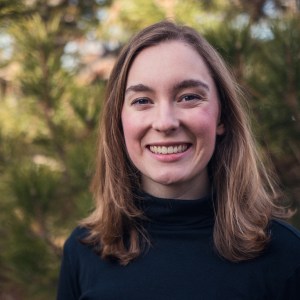 I'm Natalie Van Hoozer, a bilingual English/Spanish freelance journalist based in Reno, Nevada.
I'm passionate about bridging the gap between Spanish and English-language communities in the U.S. and beyond. I am the U.S. ambassador for SembraMedia, a media nonprofit dedicated to empowering Spanish-language digital media entrepreneurs. Previously I was a Fulbright scholar in Argentina and worked as a program assistant at the International Center for Journalists in Washington D.C., specializing in Latin American projects.
I earned degrees in journalism and Spanish from the University of Nevada, Reno. I also worked as a reporter for National Public Radio member station KUNR Public Radio and Noticiero Móvil, UNR's bilingual student news outlet. Some of my projects included stories focused on the local day labor community, Latina business owners in Reno and stories about local immigration and politics.
For my undergraduate thesis, I researched the landscape of bilingual Spanish-English reporting in the state of California.
2021 MJ Bear Fellowship Project
I am currently in the process of launching a Spanish-language WhatsApp newsletter for KUNR Public Radio, the NPR member station for Northern Nevada and Eastern California. This newsletter will help expand the reach of KUNR's Spanish-language public health and pandemic reporting, creating regular two-way conversations with the Spanish-speaking community. In addition to the WhatsApp channel, I will also host virtual focus groups with newsletter users to invite feedback, understand their perspectives, and collect story ideas.
I am also a Solutions Journalism Network 2021 LEDE Fellow, and with the support and guidance of SJN, the newsletter will have a section focused on sharing solutions-focused reporting, produced by KUNR Public Radio and other organizations. This initiative in WhatsApp is built on the nine months of experience I have organizing Spanish-language Facebook Live discussions for KUNR. I know firsthand that KUNR's biggest challenge producing news in Spanish is connecting with the audience of Spanish speakers in Northern Nevada who desperately need reliable local news in Spanish. I have established a core group of Spanish-speaking, Latino community contacts who will be a good starting point for introducing this WhatsApp newsletter into the community. However, I know that reaching beyond this group and building trust with other Spanish-speakers in the community will take work. I plan to address this obstacle with consistent, accurate Spanish-language reporting that this community can come to expect. Through open, public forum listening sessions, these Nevadans will also see that I want to hear their questions and what they have to say. A main lesson of this project is to demonstrate the challenges and benefits small newsrooms face when taking on virtual Spanish-language community engagement. The ultimate goal is to include more of the Spanish-speaking community as audience members for our predominantly English-language NPR station. As a radio reporter, I will feature audio segments in the newsletter, which will also be an experiment to see if audio reporting connects with an audience of Spanish speakers with varying levels of literacy. As an additional learning opportunity, solutions-oriented reporting will be included as part of the newsletter and discussed in focus groups, to see if this style of reporting has a definable impact on the community, in comparison to problem-oriented stories.
I am the project manager and bilingual reporter leading this initiative. I proposed the initial project, and have since developed the project timeline and determined the deliverables, which will include community events, news aggregation and original reporting. I work with KUNR's news director and KUNR's digital editor internally at the radio station. The editor of the Reynolds School of Journalism's Noticiero Móvil bilingual student newsroom at the University of Nevada, Reno also assists me editorially on an as-needed basis for the Spanish-language component of the project."