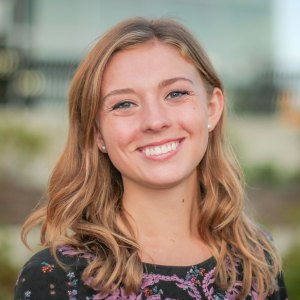 Stephanie Murray is a senior journalism student at the University of Massachusetts Amherst. She is editor in chief of Amherst Wire, the student-produced, digital-first news magazine of the UMass Journalism Department.
Murray spent the summer as an intern at the State House News Service, a privately-owned, subscriber-based news wire that covers the Massachusetts State House in Boston. Murray covered issues including the state budget, marijuana legalization, higher education, climate change, health care, gun laws and abortion.
She also manages audience engagement for MASSterList, a daily email newsletter focused on Massachusetts political news and commentary. Murray worked as an intern and then as a full-time general assignment staffer at the Daily Hampshire Gazette in Western Massachusetts where she covered the first fatal shooting in Amherst in more than a decade.
She serves as a leader in the ONA Western New England group. Murray got her start in journalism as an intern at her hometown paper, the Lowell Sun. Murray is from Tyngsboro, Massachusetts, a small town on the border of New Hampshire. She believes in on-the-ground reporting, government accountability and never taking yourself too seriously.