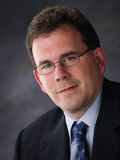 Welcome to 2013, another year sure to feature significant changes in how we produce journalism, and how the public finds and consumes it. If that sounds like a complaint, it's not. I actually find that quite exciting, and I hope you do too. It's not often that any generation gets to invent and define a new medium.
It's funny, but just about every ONA President's Letter ever written has prominently referenced the transformation of our industry and our craft. So, as I sat down to write this, it struck me that, instead of referencing that again, maybe we all just need to acknowledge that "change" is our new normal. "Transformation" isn't the word we should be using, since it implies an end point, a goal reached. It's "evolution" we're talking about, something constant and never-ending. And if there's a perfect group of people to help lead this evolution, it's the more than 2,000 members of the Online News Association.
I'm proud and humbled to have recently been elected to serve a second year as president of this amazing organization. Started by a group of forward-thinking pioneers in 1999, ONA has steadily grown in membership and influence over the years, and now serves as the world's largest organization comprised primarily of digital journalists. Like everyone in the media world, we've tried to keep up with the frequent and jarring changes to our industry, which no longer fail to surprise us, but always fail to defeat us. While ONA has made its fair share of missteps over the years, it's never been because we've been too comfortable or lazy. It's because we're evolving right along with you.
That said, 2012 was a terrific year of evolution for ONA. We had our best-attended conference ever in San Francisco, one which received rave reviews, made some headlines and featured the launch of The Midway, an exciting new exposition that brought in some of the world's most forward-thinking companies. Our ONA Local groups continued to expand, with eight new groups launched, and ONA Camps visited three cities with on-the-road digital training. Our M.J. Bear Fellows and AP-Google Scholars proved that the future of journalism is bright by identifying, supporting and spotlighting some of the best young minds in the field.
Meanwhile, our committees continued to keep on top of issues, legislation and policy that impact your work (Legal Affairs) and helped you network (ONA Educators Facebook page), and the Digital Communications team shared and explored useful resources, commentary and analysis (ONAIssues).
This year promises to be just as exciting. For the first time in many years, our conference will be outside its normal coastal corridors, as ONA13 moves to Atlanta, Oct. 17-19. We've heard from many members that they'd like to see the conference in new cities. While we understood that concern, we also needed to keep it in locations where we had a strong membership base to assure solid attendance, since the conference is the financial foundation for so many of the other services we provide. But I'm happy to say that we've now reached a point where our membership is geographically diverse enough that we're able to confidently move the conference off the coasts a bit more.
So, from myself, all our new Board Officers, Board of Directors and great staff, thank you for your membership and support. We promise to keep evolving to serve you, no matter what the new normal brings in 2013.
Jim Brady