2013 Applications Now Open
All application materials are due by Friday, May 31, 2013, 11:59 p.m. ET.
Overview
The MJ Bear Fellowships identify and celebrate young digital journalists, working independently or for a company or organization, who have demonstrated — through professional experimentation, research or other projects — that they deserve support for their efforts and/or vision. The fellows are up-and-coming early-career journalists inside or outside the newsroom who are just beginning to make their voices heard in the industry and working to expand the boundaries of digital news.
Meet our three 2012 Fellows below, two from the United States and one from Europe, and read their blogs. Also, watch videos created by our class of 2011 about their fellowship experiences.
Each Fellowship provides:
Assignment of a personal ONA mentor for six months
Registration, travel and accommodations for the Online News Association Conference & Awards Banquet
Recognition at the ONA conference
Membership in ONA, with three years' dues paid in full
If you have any questions, email mjbearfellowship@journalists.org.
2012 Fellows
Hagit Bachrach
Position: Video producer, Council on Foreign Relations
Age: 29
Website: hagitbachrach.com
Facebook: Hagit Bachrach
LinkedIn: Hagit Bachrach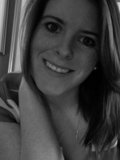 Tricia Fulks
Position: Freelance digital journalist; Founding story director of "Hollow" interactive documentary
Age: 25
Website: triciafulks.com
Twitter: @tmfulks
LinkedIn: Tricia Fulks
Denise Hassanzade Ajiri
Position: Web writer for Radio Farda, Radio free Europe
Age: 29