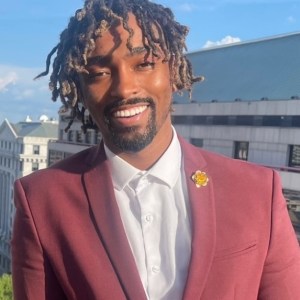 Along with serving as Founder & Chief Reporter of Vngle, Blake Stoner serves as a Journalism Fellow at Stanford & USC's co-founded Starling Lab for Data Integrity. He is also a Knight Foundation Fellow at the CUNY Craig Newmark Journalism School's Executive Program for News Innovation and Leadership and serves on the Advisory Council of the Solutions Journalism Network.
Blake holds an MS in Strategic Communication from Columbia University and a BA in Economics from Morehouse College. He is also a Software Engineering alum of the Flatiron School. Previously, he served as a Board Member of the Columbia Venture Community, a Harvard Franklin Fellow for Social Impact x Tech, a Human-Centered Design Leader at the Columbia University Design Studio, an Oprah Winfrey International Leadership Fellow, and a Goldin Institute Global Fellow for international grassroots leadership.
MJ Bear Fellowship Project
Vngle is a web3 grassroots news agency. The company's name stands for "various angles" and it serves as a visual content newswire that trains diverse constituencies on how to capture verified hyper-local insights to aid newsrooms in combating underrepresentation and misinformation. Vngle deploys patented public ledger mobile forensics, cross-cultural news training, and social-organizing techniques to mobilize creators around cataloging visual insights across underserved areas. Through partnering with local experts and equipping them with UGC public ledger verification to capture stories, Vngle helps newsrooms expand their coverage capabilities by giving them access to a transparent record of exactly where, when, and how digital content originates across cities.
With the backing of Stanford University & USC's Starling Lab for Data Integrity, the Vngle Grassroots News Agency is launching its biggest initiative yet to catalog healthcare access disparities across Georgia. Vngle will conduct a photo & video series cataloging cross-cultural healthcare experiences across the CDC's backyard, all powered by web3 public ledger-powered tools to secure the provenance of all content. The project will help curate new data on the differing realities surrounding healthcare access, all while serving as an opportunity to open our newswire to allow interested media organizations and policymakers to access our visual grassroots content and sentiment insights.
As a fellow, Blake hopes to grow with the ONA community to understand how to navigate the business decisions needed to offer Vngle's services to outlets across America. He also seeks to represent a new era of ethically-minded media leadership whose methods are not only innovative but sustainable in supporting real lasting change across newsrooms.