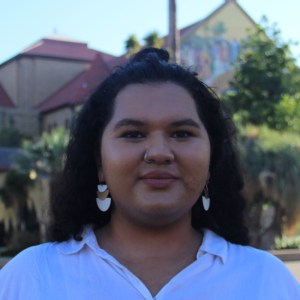 Ugur Dursun has been able to wear many different hats in the news industry, writing on various beats from entertainment to news and types of journalism from breaking news stories to information hubs and social media platforms.
In March 2022, Ugur took over as the newsletter editor for Bay City News' nonprofit local news initiative, Local News Matters. In this role, they are responsible for curating and producing two weekly newsletters: news on Mondays and arts & culture on Thursdays. Ugur has been working to innovate and contribute to the mission of Local News Matters through their work on these newsletters.
As an MJ Bear fellow, they are looking to connect with a diverse cohort of early career journalists to share experiences and exchange ideas. Ugur aspires to have a selfless career in service journalism.
MJ Bear Fellowship Project
Ugur started a new monthly newsletter highlighting the journalists who are doing the work and covering the Bay Area stories that need to be heard. They are able to run this newsletter in tandem with Bay City News' impact tracking project in collaboration with Impact Architects, who strive to visualize the fruits of their labor in the news industry.
For the first edition of this new project, Ugur interviewed one of Bay City News reporters, Victoria, about her work covering the greater Stockton area for Bay City News and Local News Matters. Ugur wanted to highlight the importance of a reporter from Stockton being able to cover these stories and how important their presence in Stockton was for the news ecosystem. This email was met with positive feedback and donations to Bay City News Foundation that allowed the work to continue.
Ugur hopes to expand on this project and create more interactive multimedia presentations that showcase the work of reporters in ways that can uplift them and inform the public about who is writing their news stories. They are also interested in creating a public-facing version of the Bay City News Impact Tracking dashboard.