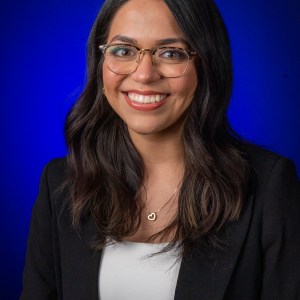 Laura Anaya-Morga's dream is to tell the story of Latinos, with all their nuance and their beauty.
Throughout her journalism career, Laura has assisted LA Times journalist, Esmeralda Bermudez, on a year-long project focused on the Salvadoran Diaspora and the thousands of Salvadorans who had to flee their homes after the U.S.-sponsored civil war. For six months she interviewed Salvadoran families around the world about the intense sacrifices they made to move their families out of war conditions some 40 years ago.
With this fellowship, Laura wants to meet journalists who have moved the needle in their own newsrooms and/or have valuable insight into covering the Latinx community.
MJ Bear Fellowship Project
Laura is on a mission to relaunch the Spanish-language section of the Long Beach Post, to better serve their city's vast Latinx population.
The idea is to turn the Spanish section of the Long Beach Post into a platform where Latinos can come together and share concerns, find answers to important questions they have about their community, learn about how to become civically engaged in their neighborhoods, where to find resources to combat food/health insecurity, learn about community events and so much more.
Laura wants this to be a space where Latinos in Long Beach feel welcomed and empowered to share their voices.