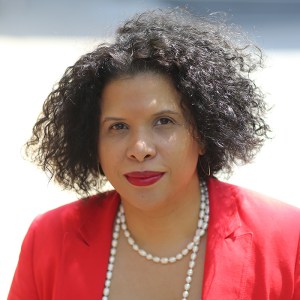 In 2017, Juleyka founded a production company, Lantigua Williams & Co., after 18+ years in media (NPR, The Atlantic, Random House). Its mission is to support and amplify the work of creators of color in digital audio and film. Within months of launching, Lantigua-Williams & Co. was awarded a grant from the MacArthur Foundation to create a podcast ("70 Million) to chronicle criminal justice reform from the ground up around the country.
Juleyka's work as a multimedia journalist reached tens millions of people and appeared in The Houston Chronicle, The Miami Herald, The Chicago Tribune, and the L.A. Times, among dozens of national and local papers, and publications like JET, The Progressive, and Nieman Reports. Juleyka earned a masters in print journalism from Boston University and an MFA in creative writing from Goddard College. A Fulbright Scholar (Spain) and John Jay/Tow 2016 Criminal Justice Reporting Fellow, she volunteers as the communications director for TEDxFulbright. Lantigua-Williams has made inclusion a central theme in her life's work, while endeavoring to fully understand her own experiences as a hyphenated American.
---
As a candidate for the 2019-20 Board of Directors election, Juleyka delivered a lightning talk at the ONA18 conference and submitted the following information. Learn more about the election process.
ONA Involvement
I have been in media 18+ years, as a journalist, writer, editor and now production company founder. I have managed and mentored dozens of individuals along the way to ensure that newsrooms are a reflection of our country. My experience with ONA has been largely shaped by being in the WLA. That has been a transformative experience for me and I have taken so much of what I've learned this year and applied it to myself and my company. I'd like to support ONA in continuing such important work so more people and our industry benefit.
Vision for ONA
ONA has prospered as a recognized leader in multiple areas, including fostering newsroom leadership, technical skills training, spurring innovation, and information sharing. I believe these strengths have prepared ONA to step into a bigger role as a delegate on behalf of media makers. It can help foster relationships and partnerships across disciplines and industries at a time that calls for such collaboration.
We are now witnessing some of the more public results of remaining siloed in our media bubbles. Misinformation, intentional deceit, coverups, and outright hostility toward the media have put the entire industry on alert. This is the perfect moment for ONA to step in as a thought and innovation leader and help organizations and individuals from media and non-media fields see the overlapping themes, goals, and challenges that we can face together.
One such challenge is growing an organic leadership pipeline within organizations and industries. The Women's Leadership Accelerator is a world-class example of how ONA excels at setting up leadership academies that yield results immediately after. This would be one area in which ONA can lead other organizations and also create a new income stream for itself.
Another two areas are decentralized organizational structures and distributed collaborator networks. The future of work is the individual contractor negotiating their terms from wherever they choose to live. Media professionals are among the handful of highly skilled workers who have already mastered the requisite skills to thrive in the new age of work.
ONA has access to scores of such professionals and can harness their experience and knowledge to provide roadmaps and hands-on implementation of such employee networks for other fields.
There are many other strengths that I believe set ONA apart from other professional organizations that can be harnessed for its benefit and that of fields not immediately adjacent to media.
As a board member, I would help analyze such opportunities and work with the board and the leadership to utilize them to strengthen ONA and grow its role as a leader among industry organizations. For 18 years in media, I have led teams of creatives, media technicians, and producers in print, web, and audio publication. I have managed national monthly magazines, launched publications and now a media company, headed news desks, and participated in every aspect of media production–from inception to promotion and beyond.
I understand how our industry works, it's strengths and its challenges. And I also know how to tap into the resilient spirit that keeps many of us working into the night, digging for facts well past a deadline, and perfecting our craft for the sake of being better than we were a year ago. I live by that ethos and bring it to everything I do. I will bring it to the ONA board if I am selected as a member. Thanks for reading this.
Kate Lesniak on Juleyka Lantigua-Williams
Juleyka's entire business model, Lantigua Williams Co, focuses on cultivating journalists, producers, and creatives of color. Most professionals might stop there, but Juleyka's larger vision for media in this country includes building something bigger: Connecting those media-makers to the resources they need in order to transform our overall digital media landscape.
At this point, we shouldn't need to have a conversation about why someone with Juleyka's vision and skills should have a seat at the table, and I'm sure ONA's current board and leadership agree with me there. But what really sets Juleyka apart is her willingness to engage, to go deeper, and to continue in difficult conversations that challenge other experienced professionals to reconsider their approach and center truly equitable values. She'll tell it like it is, but she'll also equip others with the perspective they might need to better themselves: In terms of digital skills, she might encourage a producer to seek more time in studio to hone their reflexes. In conversations about equity, she'll offer a viewpoint that goes above and beyond what others might be willing to explain. Juleyka shows up!
Maybe most importantly, lasting innovation can only happen when we bring diverse perspectives to the table from people who have the necessary skills and resources to be able to make industry-changing decisions. Juleyka demonstrates each of those qualities in her work every day. Please do consider her an excellent nominee for a position on your board!