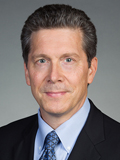 Special Counsel
Cooley LLP
Michael is special counsel in Cooley's Technology Transactions practice group and resident in the Washington, DC office. He was most recently senior counsel with the Public International Law and Policy Group and prior to that, was associated with Dow Lohnes, which merged with Cooley in 2014.
Michael specializes in representing digital publishers, newspapers, magazines, radio and television stations and book publishers in a wide range of matters relating to content creation, news-gathering and the dissemination of information through the digital, print and broadcast media. Michael is also a highly experienced litigator, successfully defending media companies throughout the nation in scores of cases at every level of the state and federal judiciary, including preparing amicus and party briefs in eight proceedings before the U.S. Supreme Court.
He was named in Best Lawyers in America for Media Law in 2013 and 2014. He has published numerous articles on media defense and First Amendment issues and was co-author for the District of Columbia and Georgia sections of the MLRC 50-State Survey of Media Privacy and Related Law for 1996-2002 and 2006-2010, respectively. He is a graduate of Stanford Law School and the State University of New York at Stony Brook.