The Online News Association, the world's largest membership organization of digital journalists, today announced its seventh class of MJ Bear Fellows, three journalists under age 30 whose innovative work in independent, community and corporate news represents the best of digital media.
The selection committee combed through 44 applications from 18 countries to choose these up-and-coming digital journalists — two United States or Canada-based and one international, in partnership with MSN International — who are making their voices heard in the industry.
"The MJ Bear Fellowships were created to focus on the outstanding work of young people, and to offer them a spotlight as well as tools to advance," said Committee Chair Amy Eisman of American University. "The Fellows this year represent the future well with their emphasis on data, podcasts and women and minorities in science. We salute them and hope you will likewise watch their progress in reports throughout the year."
The 2017 MJ Bear Fellows are:
Mollie Bloudoff-Indelicato, 27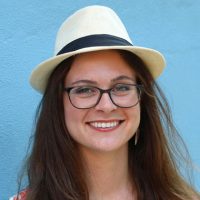 A freelance reporter and editor, Mollie is creating a database of minority and female scientists to address the lack of diverse perspectives represented or cited in science writing. She started working on the project after she'd written several articles on a tight deadline and found she was quoting only white males. "This happens a lot in science reporting — even for topics like women's health," she says, "And it means we're missing out on important points of view."
The Selection Committee said: "Creating a database of female and minority scientists is a practical idea and a highly applicable resource. If you consider how bias is built into the social media and the search tools we use daily as journalists, this sort of database could be a game changer. Her commitment to diversity and building a tool to ensure that is reflected in the coverage of critical issues such as science, the environment and health is exemplary."
See Mollie's project here and here. | Connect and learn more.
Kelly Moffitt, 28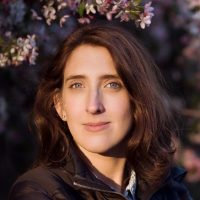 Kelly is an online producer for St. Louis Public Radio and the creator of Flyover Podcast Newsletter, which is aimed at connecting people with podcasts produced between the coasts and providing resources for others to start local audio storytelling of their own. The newsletter includes examples and skills-sharing interviews with podcasters who cover what she calls "flyover country." Their podcasts range from the serious, confronting issues of gentrification and racism, to those that uncover little-known arts communities or encourage people to "opt outside."
The Selection Committee said: "It's neat and so needed. Kelly is reaching out to areas of the country most people pay little attention to and building a grassroots network of storytellers who are smartly using podcasting as a vehicle to tell stories about local issues and interests. Her interviews are entertaining and very informational. Textbook teaching for would-be podcasters."
See an example from Kelly's project. | Connect and learn more.
Subhashish Panigrahi, 29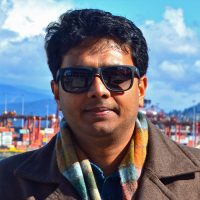 Subhashish is Chapter Development Manager/Asia Pacific, Internet Society in Bengaluru, India, where he is creating Open Speaks, a collaborative online community that is building open resources to help preserve endangered, indigenous and other marginalized native languages, many of which are not written and are in danger of disappearing. Open Speaks allows what Subhashish calls "citizen archivists" to document and share their stories in multimedia forms, and to build tools that help others preserve and share languages.
The Selection Committee said: "His project is imaginative and innovative. Creating an archive and toolkit to preserve endangered languages, some of which are not written, is important work. The recorded interviews with real people preserve the nuances and subtleties of the spoken languages, truly giving voice to the people. We love that he plans to use social media and open source to build what is an impressive project. Subhashish's volunteer work with Global Voices and other digital organizations such as Open Glam and Wikimedia make him a formidable digital journalist of the future."
See Subhashish's project. | Connect and learn more.
Each fellow will participate in three online workshop sessions with ONA's hand-picked Personal Advisory Board, and will receive a free, three-year ONA membership and an expense-paid trip to the Online News Association Conference & Awards Banquet, Oct. 5-7 in Washington D.C., where their work and ideas will be highlighted.
Honorable Mentions
The selection committee felt so strongly about the projects and potential of four other applicants that they were awarded honorable mention. They are:
Jareen Imam, head of social media and strategy, CBS News
Judah Robinson, digital journalist and producer, NowThis
Anand Katakam, manager for data products, Scroll.in, Bangalore, India
Ulkar Alasgarova, manager, Radio Baijan, Baku, Azerbaijan
Each will each receive a free one-year ONA membership.
MJ Bear, whose wide-ranging career took her to pivotal roles at Microsoft's MSN Portals and MSN International, NPR and American University, was renowned for her kindness and digital know-how. She played a vital role in ONA's history as a member of the original Board of Directors, helping to incorporate the organization in 1999 and serving on the Education, Fundraising, Conference and Legal Affairs committees until 2003.
You can donate to the MJ Bear Fellowship fund online.
The 2017 Selection Committee included:
Amy Eisman, Director, Media Entrepreneurship & Special Programs, American University, MJ Bear Fellowship Chair
Irving Washington, Executive Director, Online News Association
Jake Carpenter, Network Photojournalist, CNN (MJ Bear's nephew and family representative)
Jody Brannon, Chief News Evangelist/Digital Content Executive Bing News
Sarah Hoye, Reporter, WFAA Media, Dallas TX
Laura Amico, Senior Editor, Harvard Business Review, 2011 MJ Bear Fellow
Denise Hassanzade Ajiri, Data Team Leader, Tehran Bureau, 2012 MJ Bear Fellow
Geraldine Moriba, Writer, Filmmaker and Multiplatform Content Creator
Anne Saul, News/Video Consultant, former Gannett News Executive, MJ Bear Fellowship Coordinator
Jennifer Mizgata, Director of Programs, Online News Association