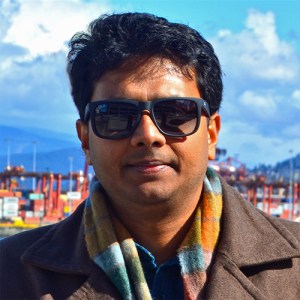 Profile as a 2017 MJ Bear Fellow
Subhashish is creating Open Speaks, a collaborative online community that is building open resources to help preserve endangered, indigenous and other marginalized native languages, many of which are not written and are in danger of disappearing. Open Speaks allows what Subhashish calls "citizen archivists" to document and share their stories in multimedia forms and to build tools that help others preserve and share languages. O Foundation, a nonprofit that Subhashish helped cofound, currently hosts OpenSpeaks.
"Living in a linguistically diverse country like India has been quite beneficial for me to learn how majority of the people that do not speak the official languages (there are 780 native languages in India and only 23 are officially recognized out of which only a few have a fully grown education, governance, and media) struggle with exchanging information in their languages."
"I have a dream to see hundreds and thousands of native language speakers learning the wealth of knowledge in their own languages, and share their indigenous knowledge with the rest of the world," Subhashish says. "Access to knowledge is a basic human right, but a vast majority of the humanity cannot access knowledge in their native language. While preserving languages is important, it is even more important to ensure speakers have resources to exchange knowledge in their native language." (Listen to a sample.)
His long-term plan is "to crowd-source openly-licensed journalistic content in many native languages, annotate them, and make them available publicly under open licenses such as the Creative Commons Share-Alike licenses so that others can make use of them for their own work.
The MJ Bear Fellowship Selection Committee said, "His project is imaginative and innovative. Creating an archive and toolkit to preserve endangered languages, some of which are not written, is important work. The recorded interviews with real people preserve the nuances and subtleties of the spoken languages, truly giving voice to the people. We love that he plans to use social media and open source to build what is a formidable project. Subhashish's volunteer work with Global Voices and other digital organizations such as OpenGLAM and Wikimedia make him a formidable digital journalist of the future."
Said his recommender Marc Bogonovich, founder and CEO of Openwords, "Currently, there is very little or no existing multimedia content available for a large number of native languages, and the focus on open standards will hopefully fill part of that gap. …He is taking this work one step forward by building digital accessibility tools which are extremely essential for persons with visual impairment and illiteracy. … …Openwords is incredibly fortunate to have a working relationship with both Subhashish and his project OpenSpeaks.com."
Prior to launching the OpenSpeaks, Subhashish served as Asia Community Catalyzer for the Mozilla Corporation, Programme Officer for the Centre for Internet and Society, Communications Contractor for the Wikimedia Foundation and Consultant for Community and Program Support for the Wikimedia Foundation's India Program. He also has held business development positions at three advertising agencies. He is currently working as the Chapter Development Manager – Asia-Pacific at Internet Society.
Subhashish has a Bachelor of Engineering (Biotechnology) degree from Visvesvaraya Technological University in Kamataka, India.
He also has considerable volunteer experience with Opensource,.com, OpenGLAM, Global Voices, Wikipedia and other Wikimedia projects.