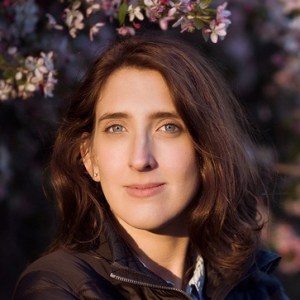 Profile as a 2017 MJ Bear Fellow
Kelly has created Flyover Podcast Newsletter, which is aimed at connecting people with podcasts produced between the coasts, and providing resources for others to start local audio storytelling of their own.
She got the idea about a year ago when she noticed that "every single podcast I recommended was produced on the coasts — New York City and Los Angeles, particularly." Having organized a local podcast tutorial event for more than 120 St. Louis residents, Kelly said, "I knew we had high quality audio storytelling happening on a local level. So why didn't anyone know about it?"
In July 2017, she launched Flyover Podcast Newsletter, which includes examples and skills-sharing interviews with podcasters who cover what she calls "flyover country." Their podcasts range from the serious, confronting issues of gentrification and racism, to those that uncover little-known arts communities or encourage people to "opt outside."
"Given common criticism of media outlets that don't accurately reflect the country as a whole, it is imperative that we find ways to incorporate community voices and local storytelling into our national narrative," Kelly says. "At its grandest scale, that's what I believe Flyover Podcast could catalyze. On a personal level, I believe it will draw attention to voices or stories that often don't meet the bar of what is considered "newsworthy" on a mass media scale, but are necessary to our understanding of America as it stands today. …My hope is that I will be able to grow the project into a community network and mentoring project for podcasters to get their voices heard and understood."
The MJ Bear Fellowship Selection Committee said, "It's neat and so needed. Kelly is reaching out to areas of the country most people pay little attention to and building a grassroots network of storytellers who are smartly using podcasting as a vehicle to tell stories about local issues and interests. Her interviews are entertaining and very informational. Textbook teaching for would-be podcasters."
Said her recommender Mary K. Edwards, Senior Talk Show Producer for St. Louis Public Radio: "Kelly believes deeply in local journalism. In her efforts to make the voices of the community heard and understood, she continually searches for personal stories that get to the heart of issues impacting the community to create talk show segments and digital experiences that break down complex issues into digestible parts."
Prior to her current position at St. Louis Public Radio, Kelly was communications and marketing coordinator at the Center of Creative Arts in St. Louis and social engagement manager for the St. Louis Business Journal.
She is a graduate of the University of Missouri where she received bachelors degrees in Journalism and International Studies and a Master of Arts in Journalism, studying community engagement in the news. In 2013, Kelly was one of 14 journalism fellows studying the ethics of journalism during the Holocaust in Auschwitz; she also participated in a University of Arizona Study Abroad program in St. Petersburg and Moscow, Russia.
Kelly is the co-founder of the St. Louis Online News Association chapter, an Associate Editor (non-fiction) for "December" literary magazine, and a contributing writer to "Missouri Life Magazine."