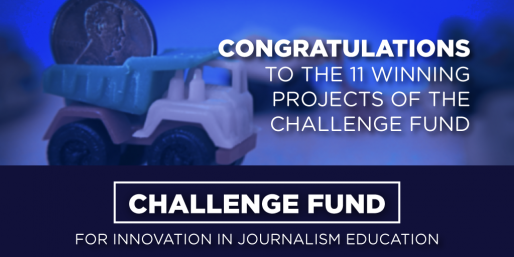 WASHINGTON, DC — Eleven projects from 13 U.S. universities each won a $35,000 micro-grant to seed collaborative news experiments in living labs — their communities, the Online News Association (ONA) announced today.
The competitive Challenge Fund for Innovation in Journalism Education was created in 2014 to encourage journalism programs to experiment with new ways of providing news and information. This year's winning projects cover issues ranging from poverty to juvenile justice, and food truck lines to logging.
The fund is the brainchild of a collaborative that includes the Excellence and Ethics in Journalism Foundation, the Robert R. McCormick Foundation, John S. and James L. Knight Foundation, the Democracy Fund and the Rita Allen Foundation, and is managed by ONA, the world's largest membership group of digital journalists.
The 53 entries competing for $385K for the 2015-16 academic year were judged on their ability to create collaborative, student-produced local news coverage, bridge the professor-professional gap, use innovative techniques and technologies and learn from digital-age news experiments. Winning teams included some combination of students, researchers, media professionals, educators, developers and designers.
"This year's winners were finely focused on partnerships and impact, using creative but realistic tools and ideas that will move local journalism forward in their communities, " said Irving Washington, ONA Deputy Director, who administered the selection process.
Winning schools and their experiments, announced Friday at the 2015 Journalism Interactive Conference for journalism educators and digital media, include:
Duke University
"Structured Stories NYC": Can structured journalism help New Yorkers navigate complex government stories?
Partner: WNYC.
Howard University
"HU Insight": Can students create a digital network for fact-checking and investigating reports and claims about the African American community?
Partners: National Newspaper Publishers Association, Trice Edney News Wire.
Indiana University
"Immersive Media Coverage of Indiana State Forest Logging": Can data-driven, immersive multimedia better frame the conversation around the increased logging of Indiana's state forests?
Partner: The Herald-Times.
Kennesaw State University
"Marginalized Youth Voices Amplified on Virtual Worlds": Can virtual reality tell the stories of marginalized youth in the Georgia juvenile system?
Partner: Juvenile Justice Information Exchange.
Marquette University
"Milwaukee Poverty Database": Can a searchable poverty database spur improved coverage or action in Milwaukee's central city?
Partner: Milwaukee Neighborhood News Service (NNS).
University of Florida
"Gamification and Collaboration: Helping a Community Conserve Water": Can gamification increase a community's understanding of water supply and help spur conservation?
Partner: WUFT TV and Radio.
J-School Collaborative: University of Nebraska-Lincoln, USC Annenberg, Texas State University
"An Internet of Food Trucks: Adding Maker Culture to J-Schools Through the Internet of Things": Can a project tracking food truck lines show news organizations how to develop commercially valuable data?
Partners: Omaha World Herald, Austin American Statesman, The Los Angeles Times.
University of Nevada, Reno
"Noticiero Móvil": Can events journalism engage a local Hispanic community to follow government news affecting Latinos?
Partners: Reno Gazette-Journal (RGJ), KNPB-TV, KXNV 89.1 FM.
University of Oregon
"Don't Wait For the Quake": Can audience attitudes, measured during a live event, impact emergency preparedness coverage?
Partner: Oregon Public Broadcasting
Washington State University
"Improved Newsgathering in Traumatized Communities": Can new forms of newsgathering spark engagement in communities in the aftermath of a tragedy?
Partner: The Everett Herald.
West Virginia University
"Stream Lab": Can sensor journalism increase engagement around contaminated water issues?
Partners: West Virginia Public Broadcasting, The Charleston Gazette.
Six projects received honorable mention: California College of Arts, The City College of New York, North Carolina A&T State University, Seattle University, Temple University, and a second submission from the University of Oregon.
The winners, chosen in consultation with academic advisers, ONA leaders and funders, will be featured at the upcoming ONA15 conference in Los Angeles and other news media education events.
With this round, the Challenge Fund now supports 23 schools in their attempts to commit journalism differently. In 2016, the competition will culminate in two grand prizes for the projects most likely to change local newsgathering, journalism education or both. Two overall prizes will be given for the best project research, regardless of the experiments' outcome.
---
About ONA
The Online News Association is the world's largest association of digital journalists. ONA's mission is to inspire innovation and excellence among journalists to better serve the public. The membership includes news writers, producers, designers, editors, bloggers, developers, photographers, educators, students and others who produce news for and support digital delivery systems. ONA also hosts the annual Online News Association conference and administers the Online Journalism Awards.
About the Democracy Fund
The Democracy Fund invests in social entrepreneurs working to ensure that our political system is responsive to the public and able to meet the greatest challenges facing our nation. To learn more visit DemocracyFund.org.
About the Ethics and Excellence in Journalism Foundation
Founded by Edith Kinney Gaylord, Ethics and Excellence in Journalism Foundation's mission is to invest in the future of journalism by building the ethics, skills and opportunities needed to advance principled, probing news and information.
About John S. and James L. Knight Foundation
Knight Foundation supports transformational ideas that promote quality journalism, advance media innovation, engage communities and foster the arts. The foundation believes that democracy thrives when people and communities are informed and engaged. For more, visit knightfoundation.org.
About the Robert R. McCormick Foundation
The Robert R. McCormick Foundation is committed to fostering communities of educated, informed and engaged citizens. Through philanthropic programs, Cantigny Park and museums, the Foundation helps develop citizen leaders and works to make life better in our communities. The Foundation was established as a charitable trust in 1955, upon the death of Colonel Robert R. McCormick, the longtime editor and publisher of the Chicago Tribune. The Robert R. McCormick Foundation is one of the nation's largest foundations, with more than $1.4 billion in assets. To learn more, visit McCormickFoundation.org, follow us on Twitter @McCormick_Fdn, or like us on Facebook at facebook.com/McCormickFoundation.
About the Rita Allen Foundation
The Rita Allen Foundation invests in transformative ideas in their earliest stages to leverage their growth and promote breakthrough solutions to significant problems. It enables early-career biomedical scholars to do pioneering research, seeds innovative approaches to fostering informed civic engagement, and develops knowledge and networks to build the effectiveness of the philanthropic sector. Throughout its work, the Foundation embraces collaboration, creativity, learning and leadership.
For more information, contact Irving Washington, challengefund@journalists.org.