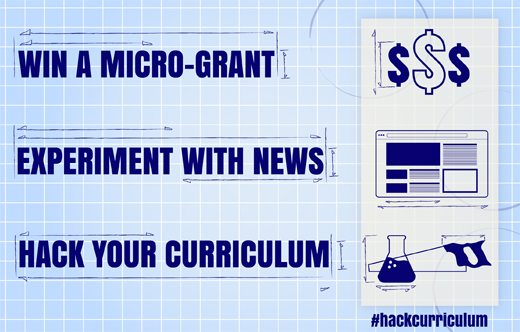 Important Dates

Dec. 2, 2013: Applications open
Feb. 13, 2014: Application deadline
April, 2014: Winners announced
Sept. 25-27, 2014: Challenge Fund at ONA14
The goal of the $1M Challenge Fund for Innovation in Journalism Education is to hack the journalism curriculum using customized versions of the teaching hospital model. The fund supports universities to partner with news organizations, and explore new ways of providing information to their local communities.
Winners receive up to $35,000 in micro-grants to support live, local news experiments. Winners can then compete to win up to $100,000 in additional grand prizes for best project and evaluation.
We've partnered with the Excellence and Ethics in Journalism Foundation, the Robert R. McCormick Foundation, the John S. and James L. Knight Foundation and the Democracy Fund to launch this $1 million challenge over two years.
Will this change the face of journalism education as we know it? We hope so. We know there are many educators, technologists, researchers, students and media professionals who are excited about collaboratively exploring the possibilities.
For more information contact ONA Operations Director Irving Washington at challengefund@journalists.org.