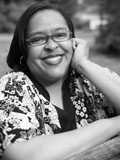 WASHINGTON, DC — The Online News Association today announced the appointment of Benét Wilson, eNewsletters/Social Media Editor, Aircraft Owners and Pilots Association, to its 2013 Board of Directors.
Wilson is an aviation/travel freelance journalist and blogs at AviationQueen.com. She is chair of the National Association of Black Journalists Program Committee, overseeing workshops for the 2012 convention in New Orleans and the 2013 convention in Orlando, and chairs NABJ's Digital Journalism Task Force, which keeps members informed about the latest tools, trends and technology in the online space. She is the lead writer for DJTF's NABJDigital blog, created and oversees the @NABJDigital Twitter account and oversees the task force's Facebook page. She is a member of ONA's Membership and AP-Google Scholarship committees. She is also a member of the National Association of Hispanic Journalists.
"Benét will bring to the Board serious digital chops, years of experience working on ONA programs and a fresh prospective as a blogger and freelancer," said Jim Brady, ONA Board President. "We could not be happier to have her join the board."
She has created and participated in workshops and webinars on digital journalism, branding and social media and speaks at journalism, new media and aviation conferences. A self-described "Air Force brat," she has worked for two airlines and an aircraft engine manufacturer and is now working on her private pilot's certificate.
In running for the Board in the 2013 election, Wilson singled out the need to help young journalists in her vision statement to members: "I believe that the current generation learning the craft of journalism in our colleges and universities are the next membership frontier for ONA."
She will join elected incoming Board members Jim Roberts, Mandy Jenkins, Greg Linch and Richard Koci Hernandez at the January 2013 Board meeting.