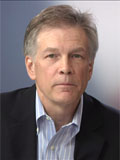 Director, Global Digital Practice, Mercury

Jim is a graduate of the University of North Carolina/Chapel Hill (1977). Before coming to Mercury, he worked for Mashable in 2014, Reuters in 2013, and was with The New York Times for 26 years, serving in a variety of editing roles, including national editor and national political editor. From June 2006 through December 2010, he served as the lead editor of NYTimes.com, and then took on the role of assistant managing editor, primarily with responsibilities spanning the Times' digital news operations.
Prior to that, he was a reporter and editor for the Richmond Times-Dispatch, an editor for the Baltimore News-American and an editor at the Dallas Times-Herald.