Mario Tedeschini-Lalli named ONA Board member
Announced during the Online News Association Conference in Boston: Mario Tedeschini-Lalli, ONA Local Italy Chair, has been appointed to the Board as our first international director.
Mario is Deputy Director, Innovation and Development, at the Italian media company Gruppo Editoriale L'Espresso. He went digital in 1997, after many years in print journalism as a reporter and an editor, mostly covering foreign affairs. He has been managing editor of Repubblica.it, CNNitalia.it, and Kataweb.it, where he led a small team experimenting with multimedia narratives. He is also a part-time teacher of Digital Journalism and History of Journalism, and writes a blog, "Giornalismo d'altri," on foreign journalism.
Mario will join the Board on Jan. 1, 2012, working with Board liaison Katie King on building and supporting our international membership, which now numbers 153 from 34 countries. Other ONA Local countries and their chairs are:
Brasil, Angela Pimental
Canada, Angela Pacienza
France, Eric Scherer
United Kingdom, Kathryn Corrick
D-A-CH (Germany, Austria and Switzerland), Ulf Gruener
Don't forget to vote
Speaking of the Board, ONA members have the power to elect directors to the six seats open for the 2012-14 term. Take advantage of it to make sure your voices are heard in the upcoming pivotal years. All ONA members in good standing as of Sept. 20, 2011, are eligible to vote here. Click on the icon next to candidates' photos on the ballot page to find out more about them and read their vision statements. Voting will close Oct. 13 at 5 p.m. ET and elected board members will be announced Oct. 20.
Visit your shiny new website
The first iteration of the new journalists.org launched at ONA11. What's new? The look, the logo, content and usability. For an overview, check out the site welcome. And don't forget to update your member profile to help you to easily connect with members, show off your expertise and help ONA collect better data. More coming on daily content and features over the next two weeks.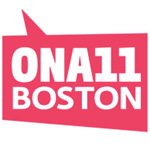 ONA11: From Boston direct to you
Be sure to take a look at all of the valuable, practical takeaways — presentations, videos and summaries to apply to your job and development — that emerged from the three days of conferencing. Most of the archived livestreams are available now, and full videos of all presentations will be posted by the end of the month.
Discounts and partner conferences
Journalists and educators take a mutual reality check in Maryland
Join hundreds of journalists and educators Oct. 28-29 at the University of Maryland for the Journalism Interactive conference to learn how social and mobile media are transforming curricula and newsrooms. This national gathering, featuring interactive workshops, provocative panels and prominent speakers from the news industry, tech companies and the academy, will take a hard look at how journalism schools have revamped curricula to keep up with advancing digital needs. Check out the schedule and speakers.
ONA is a sponsor of the two-hour Teach-a-thon, featuring 14 seasoned educators giving a crash course on digital skills and concepts. ONA members get a 20 percent discount off the full conference rate of $200 (member rate: $159.20) and the single-day passes (member rate: $79.20). Pick up the ONA discount code here and register here.
ONA discounts for BlogWorld & New Media Expo in Los Angeles
The BlogWorld & New Media Expo 2011, Nov. 3-5 at the Los Angeles Convention Center, is an industry-wide conference, trade show and media event dedicated to blogging, podcasting, social media, social networking, online video, music, Internet TV and radio. BlogWorld features 120 cutting-edge educational sessions presented by leading bloggers, podcasters and content creators, while the New Media Expo provides a marketplace for networking, online business and marketing resources. ONA members can save 20 percent on BlogWorld registration or 50 percent on Expo Passes. Find the discount codes here and register here.
Media law keeps changing. Are you keeping up?
Whether you're a blogger, social media strategist, media attorney or a journalist, the rules in digital media law are becoming increasingly dynamic. Media Law in the Digital Age, Saturday, Oct. 22, at Kennesaw State University in Atlanta, will feature experts in the fields of law, digital media, internet security, journalism and academia in an intensive, day-long conference, co-produced by the Citizen Media Law Project at Harvard University's Berkman Center and Kennesaw State's Center for Sustainable Journalism. Cost is $69. Get more details and register here.
And keep an eye out for the video of presentations from the Law School for Digital Journalists at Harvard, held during ONA11, which will capture a full day of what you need to know from a rock star line-up of legal talent.