Arizona State University is one of the 2014-15 winners of the Challenge Fund for Innovation in Journalism Education. See all 12 winners and the Honorable Mentions.
Team
Jacquee Petchel, Carnegie-Knight News21 Executive Director and Professor of Practice at the Cronkite School,
Dawn Gilpin, Cronkite Assistant Professor,
Leonard Downie Jr., Weil Family Professor of Journalism at the Cronkite School,
Kristin Gilger, Associate Dean and News21 Administrator, Cronkite School,
Retha Hill, Director, New Media Innovation Lab at Cronkite School,
Linda Fantin, Director, Network Journalism and Innovation, Public Insight Network, American Public Media,
Student News21 staff; PIN Bureau Director and Student PIN Bureau staff; Community Engagement Editor
Describe your project as a tweet
Public engagement tools can influence coverage and change the conversation – even on an issue as contentious as guns.
What is your live news experiment?
We propose to engage people in a new way on the contentious issue of guns as part of the 2014 News21 investigative reporting project. We want to reach people who don't normally weigh in on this issue, let them help shape coverage and create a dialogue among them.
People will respond to coverage of a normally divisive issue differently if they are invited to shape coverage and share their stories in thoughtful ways with journalists and with each other. Responses to articles will be measured as will participation in a moderated thread conversation.
---
How will this project reach enough people to make the experiment valid?
News21 is an established brand with a record of reaching large audiences through its website and partnerships with major media outlets, including The Washington Post, NBCnews.com and the Center for Public Integrity.
We plan to begin our citizen engagement by tapping into America Public Media's Public Insight Network's data base of 215,000 citizens, then use Google Consumer Surveys or a similar value exchange product — as well as outreach to various interest groups — to expand that network and ensure that it is diverse. Finally, we will ask members of the new community to engage with journalists and each other.
---
How is this project unique and innovative?
Journalists are using forms of crowd sourcing more frequently, but much of it is a little like blasting a shotgun into a flock of birds: You aim your gun and you hit what you hit. We propose a more sophisticated approach, building a public interest data base of diverse sources, measuring participants' views, engaging with them to help shape coverage, and then fostering a civil conversation between people that goes well beyond the typical pro-gun or anti-gun paradigm.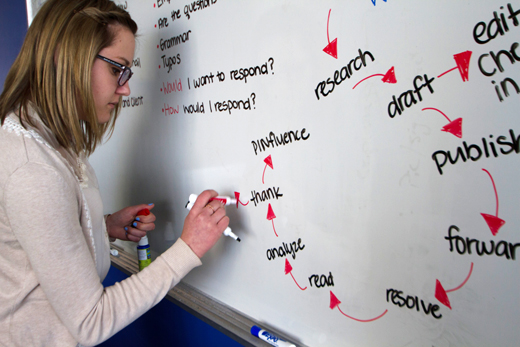 We want to identify, for example, the cultural factors (childhood experiences with guns, rural vs. urban upbringing, military connections, etc.) that shape people's opinions about guns and uncover common ground between people with various views on gun ownership and gun legislation. And we want to measure how engaging with journalists and each other in non-traditional ways influences how people respond to and interact with the final news product.
Much of public engagement journalism is done anecdotally. We hope to be able to show that this kind of journalism can not only change the stories that are told, it can shape people's responses to those stories. This live news experiment could help model an "audience first" approach for news organizations and provide data that supports the effectiveness of the approach.
---
What technology platforms will you use?
We would use existing technology — the Public Insight Network platform, Google Consumer Surveys or a similar service, and a conversation platform such as Branch or TalkWheel. The guns issues project itself will be published on the News21 website.
---
How will this project provide an educational experience for students above and beyond their current learning?
Audience-driven journalism is taught at the Cronkite School but is still in its infancy; it is barely acknowledged in many other journalism programs. The "Find the Middle Ground Project" would provide an unprecedented opportunity for not only Cronkite students but students from journalism schools around the country to use public engagement tools at a high level and experience how they can change their reporting and affect how people react to their journalism.
As these students return to their schools, they would bring that knowledge with them and share it with others. And as they enter the profession, they will be equipped with a mind-set and knowledge that can help change how news organizations interact with their audiences.
---
If this project works, how might the media organization and academic institution change its practices?
To start, News21 would become more audience-driven, with stories and sources that would otherwise be unavailable, contributing to the quality of its journalism. News21 fellows would take new practices back to their schools and use them in their newsrooms in the future.
APM and the new PIN bureau would have data that could convince partner news organizations to adopt audience engagement tools and could consider using or creating its own community conversations platforms. Journalism schools would add audience engagement teaching to their curricula.