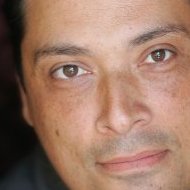 Richard is a multimedia producer who worked as a photographer at the San Jose Mercury News for 15 years. His work has earned him two Pulitzer Prize nominations and was awarded a national Emmy® award for the New Approaches to Documentary category. In 2003, Richard was the recipient of the James K. Batten Knight Ridder Excellence Award. Richard was named deputy director of photography and multimedia after spearheading the creation of MercuryNewsPhoto.com.
He has taught multimedia workshops for Stanford University, National Press Photographers Association, The Southern Short Course, National Association for Hispanic Journalists and National Association for Black Journalists.
In 2008, he joined the faculty at the UC Berkeley Graduate School of Journalism where he teaches various New Media courses. In 2010, he organized a mobile photography workshop during the world's first conference about mobile photography,1197.is. In 2011 he presented a mobile photography Master Class at the TED2012 conference and at SXSW2012.
His mobile photography and insights have been featured in The New York Times, CNN, Slate, The Atlantic, and Phototech Magazine, Wired, LA Times and a book by National Geographic. Most recently, he worked with lynda.com to produce, iPhone Photography, from Shooting to Storytelling.