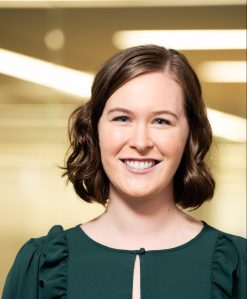 The Online News Association is pleased to welcome Carrie Blazina as the organization's communications manager. In that role, Carrie will support a range of communications efforts and campaigns to grow and more deeply engage our audiences.
Carrie will work with people across the organization to find and share stories about ONA's members and their work. Her responsibilities will include content strategy, event promotion, email and social media campaigns, press releases and overall editorial support.
Carrie's background in digital newsrooms and nonprofits makes her well-positioned to help execute ONA's mission to inspire the global journalism community. She has spent her career considering audience needs and editorial strategy while also excelling at efficiently managing workflows and projects.
"My career has always been at the intersection of journalism and technology, and that is what makes me particularly excited about joining ONA in this role," said Carrie Blazina. "I'm pleased to join a mission-driven organization that supports an industry that I value so much."
Prior to joining ONA, Carrie was a digital producer at Pew Research Center, where she handled the daily editorial calendar and publishing for its blog, wrote blog posts using data-driven research and managed institutional social media accounts. She served on the Center's Inclusion, Diversity and Equity Council, where her projects included improving the digital accessibility of the Center's editorial products and scheduling training sessions on managing workplace stress.
Before that, Carrie was a multiplatform copy editor on the Express Desk at BostonGlobe.com, editing breaking news stories, writing SEO-friendly headlines and laying out the website's homepage.
---
The Online News Association is on a mission to inspire and support innovation and excellence in digital journalism. To learn about the latest training opportunities and resources from ONA, subscribe to the ONA Weekly newsletter.
To explore partnerships, promotional opportunities and other ways to invest in ONA's programs and events, contact Chief Strategic Partnerships Officer Jessica Strelitz at jessica@journalists.org.