The Online News Association is pleased to confirm the appointment of Andrew Fitzgerald, Senior Vice President of Streaming Video Services at Hearst Television, to the 2023-24 Board of Directors.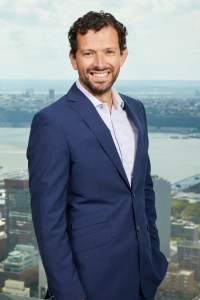 Andrew is a long-time digital journalist with a range of valuable experiences, from producer and researcher in newsrooms, to leading global curation teams and building new business models as an executive. At Hearst, Andrew is focused on bringing local news to streaming audiences across the U.S.; he joined the company in 2017 as the first Chief Digital Content Officer.
On his motivation to serve on the ONA board, he said: "Digital journalists, as the transformation specialists in their organizations, have sat at the fulcrum of that change. We're now in a period where early digital journalists, the cohort of folks who attended the Online News Association conferences in the mid- and late-2000's, are beginning to take leadership roles in the industry. Newsroom misfits no longer, the ONA membership represents the industry's new leaders … This is a valuable opportunity for the Online News Association, but also a great responsibility. As the industry continues to evolve, ONA is in a position to be an effective advocate for guiding change in the right direction."
Andrew will begin his next two-year term on Jan. 1, 2023, along with newly elected board member Kristen Reed, Director of Content at TEGNA, and re-elected incumbents Ashley Alvarado, Rubina Madan Fillion, Rodney Gibbs, Imaeyen Ibanga and Niketa Patel.
The ONA board consists of 15 digital media leaders and a non-voting Early Career Board Officer who provide strategic guidance to ONA's work and help build a stronger industry. Board seats are filled through an annual election process for active ONA members — with nominations opening in July/August — and by select appointment to meet needs identified by the current board. Learn more about the ONA board.
---
The Online News Association was founded in 1999 as a forum for digital news pioneers to collaborate on common challenges and encourage the highest journalistic standards. Become an ONA member or make a donation to sustain our mission to inspire and support innovation and excellence in digital journalism.
To learn about the latest training opportunities and resources from ONA, subscribe to the ONA Weekly newsletter and follow us on Twitter @ONA.
To explore partnerships, promotional opportunities and other ways to invest in ONA's programs and events, contact Chief Strategic Partnerships Officer Jessica Strelitz at jessica@journalists.org.