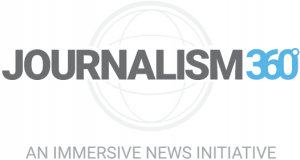 Journalism 360 is pleased to curate an exhibit of immersive journalism projects at VR World in New York City. On view through August 31, 2018, the exhibit is a unique partnership that puts news and documentary content alongside VR World's entertainment and gaming features.
Featured projects include "Damming the Nile" from the BBC, "The Deported" from JOVRNALISM and KCRW, and "Greenland Melting" from FRONTLINE/PBS and Emblematic Group.
The exhibit also showcases narrative and prototype projects from the 2017 Journalism 360 Challenge, including the Pulitzer Prize-winning "The Wall" by The Arizona Republic and USA Today Network, mobile app SceneVR from the Knight Lab at Northwestern University, and the VR data visualization tool Dataverse from Barcelona's Outliers Collective.
The 2017 Journalism 360 Challenge funded 11 projects to experiment with new technology to help journalists tell more and better immersive stories. On Tuesday, July 24, VR World will host a demonstration night featuring the 2017 Challenge winners ahead of the first-ever Journalism 360 Unconference, hosted at CUNY Graduate School of Journalism.
VR World's exciting presentation of the medium has revolutionized the user experience for virtual, augmented, and mixed reality entertainment. The space is a destination for engaging human interaction, culture, and brand immersion, where thousands of visitor play, create, and explore weekly. VR World is run by a dedicated team constantly working to innovate, improve, and push forward what's possible in how the general public experiences immersive entertainment.
"We're thrilled to partner with VR World and give people an opportunity to see how journalism is experimenting with immersive technology," said Laura Hertzfeld, Director of Journalism 360. "These projects can take you to the far reaches of the Nile or the melting ice caps or show you what life is like on the U.S.-Mexico border."
"Partnering with Journalism 360 advances our mission of merging culture and technology and presenting the entire ecosystem of immersive entertainment that spans across gaming, film, education, and art," said Tommy Goodkin, Head of Content at VR World. "It is an honor to work with creators who are demonstrating the potential of this medium, promoting inclusivity, and disrupting industry norms."
About VR World NYC
VR World is the first and largest location-based cultural attraction for virtual, augmented, and mixed reality in North America, showcasing over 50 experiences across 3 floors next to the Empire State Building. Our aim is to make emerging media more accessible to consumers, content creators, and product developers and showcase the best of mixed reality as a powerful storytelling and social medium.
About Journalism 360
Journalism 360 is a joint initiative of the John S. and James L. Knight Foundation, Google News Initiative and the Online News Association to accelerate the understanding and production of immersive journalism. Our mission is to help news organizations, journalists, technologists, content creators and journalism educators experiment with all forms of immersive storytelling, including but not limited to 360 video, augmented reality, virtual reality and mixed reality.