ONA Local's July theme was self-care, chosen by ONA Dallas/Ft. Worth, whose Local Leader Hannah Wise wrote a blog post on resources for caring for newsrooms and reporters. People shared their own tips for taking care of their mental and physical health in a demanding industry, so we decided to extend the conversation. We opened it up to our community during an online chat about burnout prevention, hosted on the ONA Local Slack channel by Wise and ONA Western New England's Kat Friedrich, who also created a set of mind map diagrams to help track and prevent burnout.
We're sharing parts of the conversation where participants highlighted resources and suggestions here. We redacted personal anecdotes from this version, so some people who participated aren't quoted here.
Sign in to the Slack community or request an invite, if you don't already have one, to join our next live chat.
---
Hannah Wise, Engagement Editor, Dallas Morning News: I am the engagement editor at the Dallas Morning News. I'm a crazy advocate for journalists practicing self-care and looking out for their colleagues. I'm excited to talk about how you can facilitate that and share some of my favorite things to do to decompress.
Kat Friedrich, News Editor, Yale Center for Business and the Environment: I'm a news editor who is originally from Chicago, lives in Vermont, and has worked as a mechanical engineer. I changed careers to study journalism and environmental studies. Starting an entrepreneurial news project about clean energy led to me being recruited by Yale University as a self-employed journalist, where I have built out two environmental [solutions journalism] websites that operate side by side. Last summer, I collaborated with other journalists to start a local chapter of Online News Association in western New England.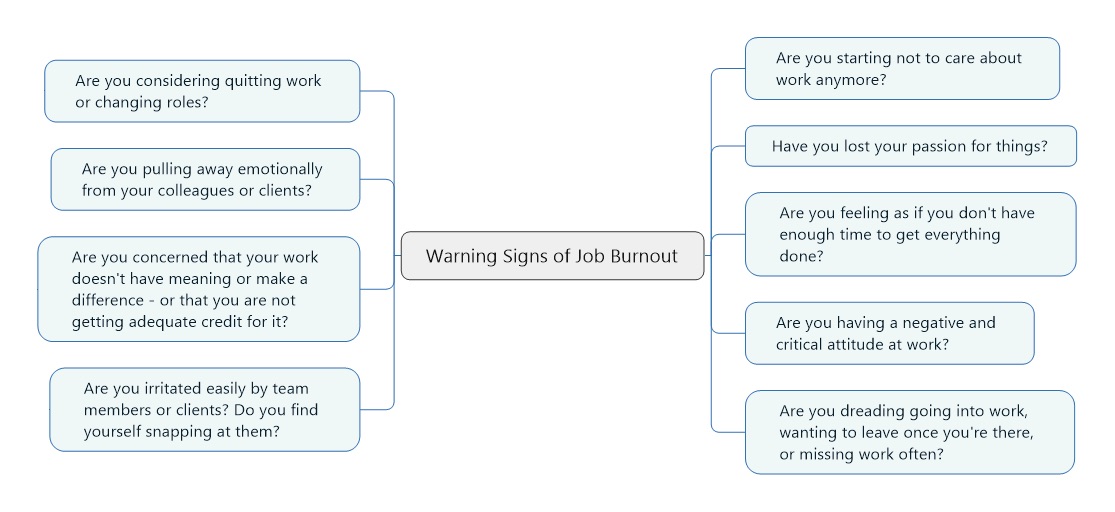 Here is the first mind map; it is about warning signs that will show you if you are experiencing burnout as a journalist.
Our second map is on the causes of burnout. 

Which of these causes do you see as being common problems for journalists you have talked with?
Ren LaForme, digital tools reporter, Poynter: I would say pretty much all, but the first one are common complaints I hear from friends and others in the industry.
The nature of most of our jobs means we get to do different work every day, and we can challenge ourselves to produce more and more interesting stuff, so low stimulation feels rare to me. But the others… hoo boy.
Katie Hawkins-Gaar, digital innovation faculty, Poynter: I was going to say the same! I also think there are additional causes of burnout that are unique to journalists. The stories we cover and our unpredictable hours can be major stressors.
Friedrich: Katie, how are the stories themselves contributing to it?
Hawkins-Gaar: It's hard to cover tragedies and not experience some kind of mental toll from that.
LaForme: I'd say the pressure to keep up with changes in technologies/business models is another major cause.
Friedrich: I'd say there are also stresses that are specific to editing news sites.
Hawkins-Gaar: I feel like there's a lot of stigma against taking breaks/admitting burnout in most workplace cultures.
Friedrich: Twitter-free time definitely helps. It seems like it helps to block out one's schedule to intentionally unplug.
LaForme: [Here's an] app that gives you points for not using your phone. You can use the points to plant trees IRL: Forest App
Aleeda Crawley, partnership director, We.thePeople: Frank Bruni talked about the issue and how hard it was to break away, especially when there seems to be breaking news (often from POTUS tweets) any minute of the day and any day of the week. Even on vacation, he said he checked in three or four times daily.
Hawkins-Gaar: Knowing that other people have your back helps to make unplugging easier.
Crawley: That's a great suggestion. No need for everyone to be subject to phone prison.
Friedrich: Aleeda, that really is true about breaking news. I see non-journalists do that too! It seems like we are really generating a lot of great ideas here. I will go ahead and post the mind map about boundaries, which is what we're talking about right now.

Here's a mind map with suggestions about adjustments one can make to one's work life to reduce burnout. These are questions you can feel free to download and use on your own.

Wise: So I think that leads us to another question: How can you introduce more strategic and creative thinking into your work day?
Friedrich: Humor is quite helpful for decompressing.
Actually, come to think of it, Hannah, all of what we're talking about — or a lot of it, anyway — does introduce creative thinking. Jokes, exercise, time outdoors… it all helps us have better ideas. So does taking a break from Twitter.
Before we wrap up, I'd like to share a file about how positive work relationships prevent or reduce burnout.

Additional Reading on Burnout Prevention