ONA and ONA South Florida held a free, day-long digital storytelling workshop at the University of Miami Nov. 12. ONA South Florida Local Leader Marian Liu compiled notes and highlights from the sessions.
---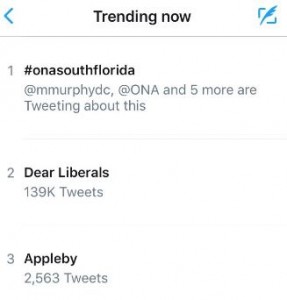 ONA South Florida was No. 1 on local Twitter trends (beating National Pizza Day) when more than a hundred journalists, technologists, students, educators and publicists came to the University of Miami for a Digital Storytelling Workshop.
Workshop topics included mobile video, data visualization and utilizing Snapchat and Facebook Live for journalism.
Snapchat: How to Take the App Seriously
Samantha Ragland, Palm Beach Post
Snapchat isn't just to wax poetic about your love affair with Starbucks. It's a storytelling platform that is pivotal in communicating directly with new audiences.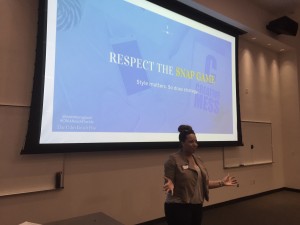 To become an expert, Ragland suggests exploring experimenting, translating traditional stories, plus building and engaging with the audience.
Her 4 Cs for Snapchat: capitalize on opportunities, consider special access, copy the masters at work and create with variety in mind. Her "Snapchat masters" to emulate include: Shaun McBride, Liz Plank, GE, Jolly Rancher and NASA.
Resources: See notes from the session and view the presentation

If You're Using Facebook Live As You Would A Television Newscast, You're Doing It Wrong.
Jermell Dantè Prigeon, WTVJ/NBC6, and Corvaya Jeffries, Palm Beach Post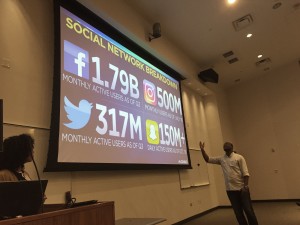 As a storyteller, you should consider incorporating live video into your coverage plan often. A few tips: Before trying Facebook Live, check if the subject is visually appealing and includes variety. Prepare by storyboarding the video and checking your Wi-Fi connection. The video should be around seven to 10 minutes long. Be sure your headline is strong, be transparent and don't shoot horizontally. Introduce yourself and brand often. Finally, if you see the same people coming back to your broadcasts, say hi and engage. Here's a great example of a Facebook Live local burger walk by SouthFlorida.com.
Your Mobile Office: Apps for Journalists who Work and Publish in the Field
Val Hoeppner, Val Hoeppner Media and Consulting
Hoeppner outlined some of the best apps on the market for those in the communications field.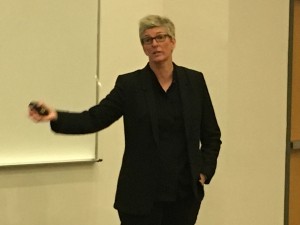 To take notes, PDFs and dictate: Evernote, Genius Scan PDF and Textgrabber. Photo apps: Filterstorm, VSCO and Teripix. Video apps: Movie Pro, Videoshop, Legend, Upload and Roll and iMovie. Audio apps: Tape A Call, iAudition, Audio Note, Mixlr, Voice Base, Rev and IFTTT. A great social app: Buffer. Finally, here's some equipment to outfit the iPhone: Mighty Mic, Shure mv88, ShoulderPod tripod mount,  Zagg pocket keyboard and a TRRS adapter.
Resources: App recommendations
Visualization for Reporters and Editors: Stripping the Dread from the Graphics
Alberto Cairo, University of Miami
Regardless of your role or professional background, you too can create beautiful data graphics with little effort. Good graphics are based on good data, attract readers' attention, don't frustrate readers and show the right amount of data. Good examples include The New York Times' piece on accents, The Washington Post's project on people shot by police and the Tampa Bay Times's project on segregated schools.  Here are some visualization tools to try: iNZight, Datawrapper, Quadrigram, Tableau and CARTO. Cairo stressed journalists should be in the business of clarification, not simplification.
Resources: View the presentation
Eyes on the Rise: Lessons on Crowdsourcing for Cross-Platform Journalism
Susan Jacobson, Kate MacMillin, Nomi Hernandez-Leiva, Natalia Quiñones, Jose Acosta and Julio Briceño, Florida International University
Students and professors behind Eyes on the Rise worked with Miami residents to document sea level rise and tidal flooding in their communities. Their app project allows anyone to enter your location and simulate the sea level rise. Data came from Google Elevation service and the FIU International Hurricane Research Center. The team also used JotForm to create online forms for their study. Here is an example from the Mobile Virtual Reality Lab.
Short and Smart: Mobile Video Storytelling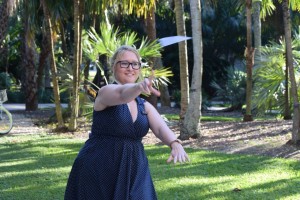 Val Hoeppner, Val Hoeppner Media and Consulting
Demand for short, timely video is high on all news web sites, and video storytelling helps our audience understand people and issues in a deeper, more lasting way. Hoeppner warned that you really only have three seconds to grab a viewer's attention for video. Participants filmed making and flying paper airplanes.
Resources: Editing tutorial
Virtual Reality for Innovating Newsrooms: McClatchy's Sandbox Team Shares its VR approach, Experience and Advice
Ben Connors and Lindsay Claiborn, McClatchy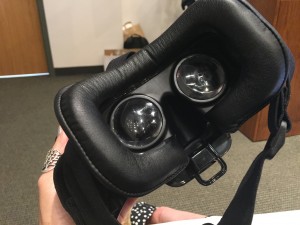 This was a broad overview of virtual reality and augmented reality as an emerging set of mediums.  If you're serious about VR, Connors suggests downloading Google Street View. The benefits of 360 video include mass audience, scale to higher-level platforms, a good starting point to learn the game and a fairly established workflow. A few tips: put the camera at eye level; anticipate where your audience will look and want to go; get into the action. A great example is The Washington Post's use of 360 video to bring readers into the Democratic National Convention.
Resources: Presentation, VR Tip Sheet, Women in VR, 360° VR Video Professionals and Purple Pill Blog
Managing Journalists on New Platforms
Rachel Schallom
Journalism is in every technology space and platform, making it challenging for managers to have experience doing everything their producers, developers and journalists must do. Schallom recommends managers ask questions, listen, not over-promise, be self confident and humble and trust your team.
Resources: View the presentation
---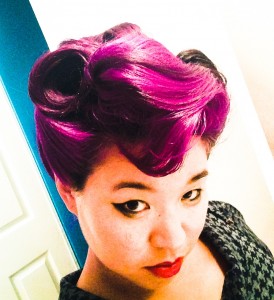 Marian Liu (@marianliu) is a believer in the underdog and at 5-feet tall, breaks stereotypes daily. Starting in 2017, she will be the senior multiplatform editor for CNN Money in Hong Kong. She is the online entertainment editor for The Sun Sentinel, where she launched and ran the entertainment site SouthFlorida.com. In the past, she's covered pop music, pop culture, technology and business for The Seattle Times, the San Jose Mercury News, the Los Angeles Times, Oakland Tribune, Detroit Free Press and Source Magazine – interviewing everyone from Jet Li to Katy Perry. She believes in mentoring the next generation of journalists and has served on the national and local boards for the Asian American Journalists Association, Society of Feature Journalists and National Asian American Association of Professionals. She also helps lead ONA South Florida. Liu is dedicated to communicating the needs of the communities she represents: young, immigrant and female.
Thanks to John S. and James L. Knight Foundation for their support of ONA Local programs and to the University of Miami for being our host sponsor for this event.