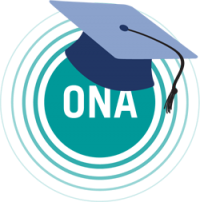 If you've got a friend or loved one graduating from J-school this year, we've got a gift to start them off on their chosen career — a discounted ONA membership.
Graduation is an exciting time, but it's also a time when students move away from the networks that have supported them for years as they move on to new but sometimes daunting opportunities.
Connecting with ONA is a great way for them to tap into innovative resources and immediately network with the best minds in their field among our nearly 2,300 members and digital journalism community of 60,000 worldwide. It's also a chance to find jobs, collaborators and inspiration for their next projects.
And as our gift to 2015 grads, we're offering our Professional membership at $50 for one full year — a savings of $25.
ONA members have access to:
Deep discounts to our annual, state-of-the-art conference
Expert training in the latest tools and technology, including free data visualization courses
Access to top jobs through our Career Center
ONA Local groups, which can be found in cities worldwide, where vibrant communities of journalists, developers and media partners regularly network and offer guidance and training
A united voice on critical legal and policy issues impacting press freedom
Buy a membership today and give your grad a heard start in digital journalism.