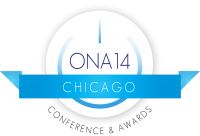 As we pulled together our annual post-conference resources, we were again blown away by all of the inspiring sessions and great energy from this year's 
Online News Association Conference
, where over 1,900 journalists and technologists joined us in Chicago. We saw a whopping 936 new attendees and were thrilled with how our community welcomed them into the fold. This was our largest conference to date and we're proud to say that as we've grown, our community has maintained a commitment to networking and helping each other by exploring and sharing the newest technology and practical advice to bring back to their newsrooms. Whether you come from a large organization or a small newsroom, whether your interest is in breaking news or producing news for mobile, whether you identify as a digital journalist, journalism-coder, journo-entrepreneur or media diversity advocate, we have something for you. Please enjoy these ONA14 resources — and let us know how we can help foster more training, networking and professional development in the next year and at 
ONA15
.
SESSIONS: videos, social curation, audio and slides
Student Newsroom reporters file over 60 stories
Check out all of the Student Newsroom coverage, sponsored by Google, which includes work by our 20 newsroom members and ONA's first class of Knight HBCU Digital Media Fellows.
Photos! Cookie Monster & Abby Caddaby, Opening Night, Google's photo booth
A few great posts on ONA14:
See more press clips on ONA14. Did you post something we missed? Email 
jennifer@journalists.org
.
ONA14 through the social media looking glass
Thanks to everyone who helped share great tips and resources from ONA14 on social media!
Celebrating the 2014 Online Journalism Awards winners
#ONAelects: Voting open for the 2015 Board
Members, vote for the 2015 Board by Oct. 14. (You can find your password in an email we sent to members only on Sept. 26 with the subject "Voting opens for the ONA 2015 Board of Directors.")
Get involved with ONA
Looking to connect with journalists after the conference who are in your community? Connect with an ONA Local group near you.
We were overwhelmed by ONA14's first fundraising karaoke night, which raised $3,475 for ONA! Thanks so much to everyone who donated. If you'd like to support great journalism work, you can donate to ONA here.
If you're passionate about ethics work, get involved with ONA's Social Newsgathering working group and learn more about ONA's Build Your Own Ethics Code project.
Sponsors, Exhibitors, Midway Participants & Recruiters
Don't forget to follow up with any recruiters or participants you met at ONA14.
Help us improve ONA15!
If you attended ONA14, we're looking for your feedback! Please fill out this 
survey for attendees
 (and also qualify for a free ONA15 pass).
Save the date
We'll be in Los Angeles, Sept. 24-26, for 
ONA15
! Join us at the Hyatt Regency Century Plaza, where the discounted hotel rate for attendees is $215 a night.