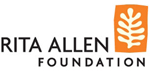 WASHINGTON, DC — A $200,000 grant from the Rita Allen Foundation will expand and strengthen the reach of a micro-grant contest run by the Online News Association (ONA), the world's largest membership group of digital journalists. With the grant, the foundation joins the funding group behind a $1 million challenge encouraging universities to create teams that will experiment with new ways of providing news and information.
The Challenge Fund for Innovation in Journalism Education supports "live news experiments" that further the development of teaching hospital models in journalism education, in which students create innovative projects with news professionals, professors and researchers. It will produce from 15 to 25 projects during the next two years with micro-grants of as much as $35,000 each and grand prizes. The 12 winning experiments for the first round recently were announced.
The competitive fund is the brainchild of a collaborative that includes the Excellence and Ethics in Journalism Foundation, the Robert R. McCormick Foundation, the John S. and James L. Knight Foundation and the Democracy Fund.
"The founding funders committed nearly $1 million to launch the project," said Jane McDonnell, ONA's Executive Director, "and Rita Allen's generous contribution translates into critical resources to support deeper collaboration and innovation in journalism schools and their communities."
A call will open in the fall for the second round of applications for projects completed no later than the 2015-16 academic years.
"Today's up-and-coming journalists face major challenges, but also a wealth of opportunities to inform and engage the public in new ways," said Elizabeth Good Christopherson, President and Chief Executive Officer, Rita Allen Foundation. "We are excited to see the Challenge Fund inspire creative new approaches to helping young journalists seize these opportunities and create even more."
---
About ONA
The Online News Association is the world's largest association of digital journalists. ONA's mission is to inspire innovation and excellence among journalists to better serve the public. The membership includes news writers, producers, designers, editors, bloggers, developers, photographers, educators, students and others who produce news for and support digital delivery systems. ONA also hosts the annual Online News Association conference and administers the Online Journalism Awards.
About the Rita Allen Foundation
The Rita Allen Foundation invests in ideas in their earliest stages, promoting breakthrough solutions to significant problems in science and society. Established in 1953, it has provided major grants to more than 100 biomedical scholars, many of whom have made important advances with their research. Since 2009, the Foundation's resources and areas of investment have expanded. It now uses strategic philanthropy to promote civic literacy and engagement, as well as to support young leaders in the sciences and social innovation.
For more information, contact Irving Washington at irving@journalists.org.