This is one of a series of blog posts from the third ONA class of MJ Bear Fellows, three journalists under 30 who are expanding the boundaries of digital news. Applications are open to apply for this year's fellowship until June 6. Fellow Ashley Lohmann is a media entrepreneur and founder/director of Beyond the Bombs.
On the website for Beyond the Bombs—my multimedia project showcasing the untold stories of the Middle East and North Africa (MENA)—we publish content from contributors across the globe. This week alone features an article from a peace activist in Lebanon, a video from a filmmaker in Iran, and drawings from school children in Yemen photographed by a political researcher there.
Beyond the Bombs operates on a crowdsourced model to gather content from storytellers in a compelling way. Crowdsourcing is key to our mission because it helps us uncover stories and perspectives from and about MENA that rarely find their way into mainstream media.
However, crowdsourcing also has its downsides. When seeking content producers outside of the usual journalism channels, it can be difficult to know where to look and how to reach them. Once you've made contact, obtaining quality content (particularly pro bono) poses the greatest challenge, followed closely by enforcing deadlines. Finally, there's the long-term struggle to build a consistent stream of content contributions.
I'm frequently asked how we get so much great content, so I've compiled a few strategies that I use for effective content crowdsourcing:
Get Networked and Spread the Word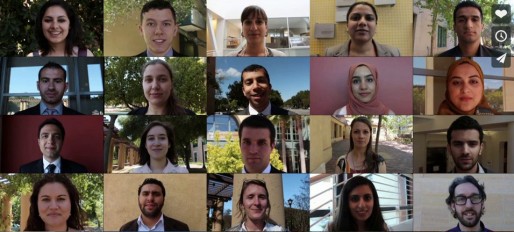 Build a network of people related to the issue you're covering, such as community leaders, entrepreneurs, nonprofit employees, businessmen, government officials, researchers or academics. They may not be content producers themselves, but they may know those who are or be willing to work with a content producer to have their own story told.
Attend conferences, participate in professional programs and fellowships, follow Twitter handles, join LinkedIn groups, and connect with as many people as you can. Most importantly, talk about your website all of the time. The more you can spread the word on your website, the more likely it is that people will come to you with content. Most of the content on Beyond the Bombs comes from people whom I've met through my network or who have heard about the website from others
For me, cross-cultural programs like the American-Middle Eastern Network for Dialogue at Stanford and the United Nations Alliance of Civilizations-Education First Summer School have been critical.
Be Clear About What You Want and What You Can Offer
On your website and in your communication with potential content contributors, provide clear guidelines about the type, length, quality and style of the content you're seeking. Give them details up front about the process for editing and publishing.
Doing so will streamline the contribution process, ensuring that more of the content you receive meets your standards and objectives and making it easier for you to publish content in a timely manner. Taking the guesswork out of the contribution process will also encourage more content producers to send in their stories.
"Your website's mission can be your strongest selling point. Whether it's the issue you're covering or the way you're covering it, if people are passionate about your mission, they will be eager to send in content."
In addition to telling contributors what you want, be sure that they know what you can offer them, especially if there is no monetary compensation. Publishing on your website can promote their causes and their talent as content creators. If you have content partnerships, your contributors' stories may be published on other websites, as well. For contributors who are non-native English speakers, going through the editing process can help them improve their English-language content and reach a wider English-speaking audience.
Most of all, your website's mission can be your strongest selling point. Whether it's the issue you're covering or the way you're covering it, if people are passionate about your mission, they will be eager to send in content. Our contributors are dedicated to changing public perceptions about the MENA region, and our website offers them an outlet to do so.
Create a Contributor Community
Make your contributors feel like part of a team. Try to arrange video calls with potential contributors early in the process. This allows you to better convey the mission of your website, discuss your expectations and theirs, and refine their ideas for content. Meeting "face-to-face" also gives you an opportunity to establish a personal rapport.
After publishing content on your site, let your contributors know how their pieces have been received. Congratulate them on pageviews, tweets, Facebook posts and comments. Make sure they know how much you appreciate them; after all, they are the reason your website continues to exist.
Most importantly, stay in touch. Encourage contributors to refer their friends to your website and to reach out if they have story ideas in the future. Check in with them periodically, too. Keeping contributors interested and involved builds a sense of belonging.
With effective content crowdsourcing, you can tap into a storytelling gold mine that will distinguish your website and bring to light stories that may otherwise never reach their full audience.
---
Fellow Ashley Lohmann is a media entrepreneur, and founder/director of Beyond the Bombs. Since graduating from Stanford University, she has held positions as a Middle Eastern security analyst in Washington, DC and an editor and writer for an online publication in Los Angeles. She has also studied and worked in Egypt, Jordan, and Turkey.