This is one of a series of blog posts from the second ONA class of MJ Bear Fellows, three journalists under 30 who are beginning to make their voices heard and expand the boundaries of digital news. Fellow Hagit Bachrach is a video producer at the Council on Foreign Relations.
---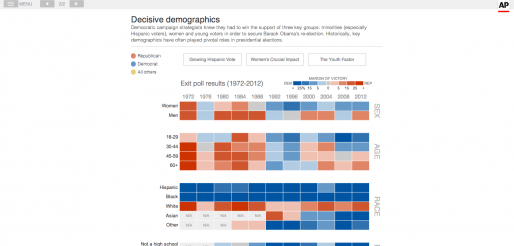 As part of my MJ Bear Fellowship, I had the great fortune of being mentored by Paul Cheung, Global Interactives Editor at the Associated Press. A few months back, Paul invited me to shadow him for the day and check out the great work he and his team are doing up close.
You've probably come across AP's data-driven graphics, 3-D animations, photos and videos on any one of its members' websites, possibly without realizing that AP is behind any of them. I thought I'd share some of my observations and takeaways for my peek behind the AP curtain:
A global workforce: On a recent Friday morning, I had the chance to sit in on the weekly global meeting, in which dozens of participants video-conference from around the world to plan news coverage. As they made the rounds among Asia, Europe and the United States, I was struck by how well-oiled this global machine was, and how technology made it appear that we were all crowding around a single conference room table. It was also reassuring to see such a global presence in an era in which other news organizations are cutting back.
Social media incorporated: At both the global meeting and a separate interactive department meeting, significant time was dedicated to looking at what was trending on social media. That morning, it happened to be an interactive map that plotted racist election tweets, which stood out among the mainstream election coverage. This interest in social didn't seem superficial, but rather a genuine pursuit of understanding the trend, and making sure that AP was either already in on it, or finding ways to cover it when relevant.
Around the web: The AP interactive team also keeps a close eye on what others are doing in this space. Many of us send around links to our co-workers when we come across something of interest, but Paul and his team actually dedicate a portion of their weekly planning meeting to discussing why they liked or didn't like a publication or product, speculating on how it was created and which backend tool was used, and figuring out what they could learn from it and utilize in the future. I loved this approach so much that I got my team at the Council on Foreign Relations to institute a weekly 30-minute "around the web" session to do just that.
Template and custom: After the morning meetings, I spent some one-on-one time with a few of the interactive team members to see just how these sausages are made. Cranking out new products on a pretty frequent basis, the team makes use of a template model, which allows them to both streamline the production process and deliver a consistent look and feel across publications. The template is a multi-click chapter experience, and individual sections of the interactive often are assigned to different team members. Although the shell or wrapper is a template, within each section there is a lot of room for flexibility and customization. Inside you'll find some stunning hand-drawn animations, custom-coded data visualizations, and video explainers.
Build responsively: With tablet sales skyrocketing and audience consumption habits shifting, responsive design is on everyone's minds, and poses a challenge for interactives in particular. AP's interactives, like all AP products, are built with distribution in mind. As the interactives are developed, they are rendered and previewed for multiple screen sizes, ensuring that no matter where they end up, you'll get an optimized user experience.
You can keep up with AP's interactives by following @AP_Interactive
---
Hagit Bachrach is one of ONA's three MJ Bear Fellows for 2012. She is part of the multimedia team and the first video producer at the Council on Foreign Relations.