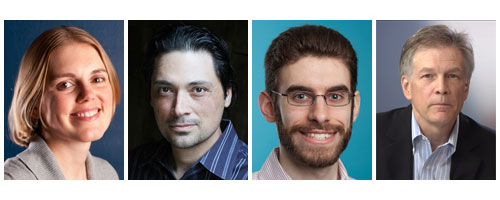 WASHINGTON, D.C. — Members of the Online News Association (ONA), the premier digital journalism organization, elected four new members to its Board of Directors and re-elected three incumbents to two-year terms.
The newest members — Mandy Jenkins, Digital Projects Editor, Digital First Media; Richard Koci Hernandez, Assistant Professor New Media, UC Berkeley Graduate School of Journalism; Greg Linch, Special Projects and News App Producer, The Washington Post; and Jim Roberts, Assistant Managing Editor, The New York Times — will join the Board Jan. 1, 2013.
"We're thrilled to have Richard, Mandy, Greg and Jim join the Board," said ONA President Jim Brady, Editor in Chief, Digital First Media. "They represent a wide range of professional skills and experiences, and as the board continues to help grow the size and influence of ONA, their help will be invaluable."
Three incumbent members also were re-elected: Board Treasurer Jody Brannon, Editor, Next America, The National Journal; Joshua Hatch, Online Content Manager, Sunlight Live; and Robert Hernandez, Assistant Professor of Professional Practice, University of Southern California Annenberg School for Communication and Journalism. A 15th seat will soon be appointed by the Board to help meet ONA's diversity goals.
Serving out their current terms are: Board Vice President Meredith Artley, Vice President & Managing Editor, CNN Digital, CNN; Past President Christine Montgomery, Chief Digital Officer, Center for Public Integrity; Burt Herman, CEO and Founder, Storify and Hacks/Hackers; John Keefe, Senior Editor for Data News & Journalism Technology, WNYC; Juana Summers, Political Reporter, Politico; and Mario Tedeschini-Lalli, Deputy Director, Innovation and Development, Gruppo Editoriale L'Espresso.
Four current board members will leave the board after Dec. 31: Cory Haik, Executive Producer, News Innovations and Strategic Projects, The Washington Post; Will Sullivan, Mobile Products Manager, U.S. Federal Government; Amy Webb, CEO, Webbmedia Group; and Katie King, most recently Senior Product Manager, Portal and Partnerships, MSN UK. Rob King, Vice President / Editor-in-Chief, ESPN Digital Media, who was appointed to the Board in 2011, will step down and a new appointment will be made.
"Cory, Will, Amy, Katie and Rob each have contributed countless hours to moving ONA forward over the years, in the areas of international, training, business development and legal affairs," Brady said. "We will miss their talent, skill and dedication."
Vote count
At the close of voting, 438 voters — representing 20.8 percent of ONA's total membership of 2,106 — cast 2,499 votes, up 6 percent from 2011.
Elected:
Robert Hernandez with 10.8%, 271 votes (Incumbent)
Mandy Jenkins with 10.4%, 259 votes
Greg Linch with 9.1%, 227 votes
Jim Roberts with 8.8%, 221 votes
Jody Brannon with 8.6%, 216 votes (Incumbent)
Josh Hatch with 8.1%, 203 votes (Incumbent)
Richard Koci Hernandez, with 7.8%, 195 votes
Other nominees:
Kate Gardiner with 7.0%, 174 votes
Amy Eisman with 6.8%, 171 votes
Maribel Perez Wadsworth with 6.0%, 149 votes
Ingrid Sturgis, 4.7% with 117 votes
Benet Wilson, 4.2% with 105 votes
Kathy Gill, 3.7% with 92 votes
Hayes Ferguson with 2.5%, 62 votes
Thomas Loebig with 1.5%, 37 votes
We thank everyone who ran and voted, and encourage active participation in choosing ONA's leadership in future elections.